You can't control when an earthquake will hit. But there are some things you can do to minimize the damage. Here are five steps to preparing for quakes that can help you escape, survive and rebuild.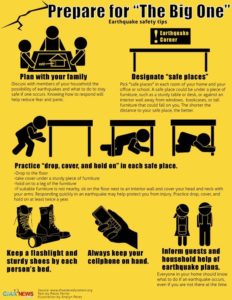 Get the right insurance coverage
Earthquake coverage is not usually part of standard home insurance policies, according to the Insurance Information Institute. You'll need to add an endorsement to your current policy or purchase a separate one. If you live in California, you'll need to buy earthquake coverage from the California Earthquake Authority (CEA); be prepared for high premiums and deductibles.
Assess the dangers
Take stock of all hazards in your home. Unassuming furniture and fixtures can be dangerous when the earth starts shaking, so don't forget about the following:
Refrigerators and other standing appliances.
Lamps and breakables in display cases.
Pictures, mirrors and other hanging objects.
Computers, stereo systems, microwave ovens and TVs.
Furniture, particularly top-heavy furniture like dressers and certain cabinets.
Water heaters and air conditioners.
Make sure everything stays put
The CEA recommends using earthquake gel (or another adhesive), hook-and-loop fasteners, putty and even childproof latches to secure potentially dangerous furniture and decor.
You also might rethink your home decorating scheme. For instance, say a large framed picture hangs over your bed (or your child's crib). Think about moving it, in case a quake strikes in the middle of the night.
Reinforce your home
The forces from earthquakes come from both "S" and "P" waves — in other words, earthquakes can rumble your building in a variety of directions, including up and down and side to side.
The numerous force factors can create tremendous torque and pressure on your building's structure. The Insurance Institute for Home and Business Safety recommends hiring a professional for the following home improvements:
Analyzing your foundation and adding supports if necessary.
Bracing "cripple" walls (the short wooden stud walls in your foundation).
Providing extra bracing if your house is on a slope.
Examining your balconies, staircases, porches, garages and side units for structural weaknesses.
Not every home will need identical earthquake protection. If you own a tall home built several decades ago and live on a hillside, for example, you face the likelihood of more damage and might need additional reinforcement, according to the CEA.
Prepare an emergency kit
After an earthquake, your home may become unlivable, so keep an emergency kit at the ready. The Federal Emergency Management Agency (FEMA) recommends that an emergency kit include fire extinguishers, food and water for at least three days, a first aid kit and copies of important documents — a copy of your insurance policy, for example, would help you quickly file a claim.