by Penny M. Hagerman
Portable and convenient, mobile homes can be found in nearly every major city and rural town across America. Unlike their traditional, stationary counterpart, mobile homes provide an easily transportable and often low cost alternative to home ownership for those who can't afford more conventional housing.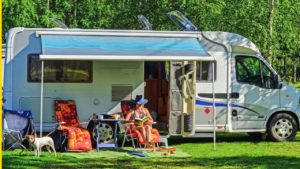 Necessary Protection for the Unexpected
Sometimes the unexpected happens. And because they're so mobile, many of these homes aren't as secure as traditional houses. But when fire or hailstorms take their toll, leaving damage or destruction in their wake, most people don't have enough cash on hand to cover the damages that can result, let alone pay for temporary lodging while their mobile home is being repaired. Thus the need for insurance.
When properly insured, major financial setbacks aren't a problem. By covering damages to the house itself; other structures on the property (like sheds or garages) and personal possessions inside the home, this type of insurance coverage helps get owners back in their abodes as safely and quickly as possible—with little to no out-of-pocket expense.
Insurance Options
So what does insurance like this really cover? While no insurance policy covers everything, several protections normally come standard. This helps protect against a wide range of possibilities and affords the owner some leeway when it comes to choosing the appropriate insurance policy.
Comprehensive insurance coverage takes care of most direct, sudden and accidental physical losses that result from home incidents like these:
Fire
Vandalism
Explosion
Landslide
Falling Objects
Water damage from busted pipes
Damage by wild or stray animals
Wind
Hail
Collapse from weight of ice or snow
If an accident occurs and someone is injured or their property damaged due to negligence on the part of the homeowner, liability coverage picks up the tab for medical bills, lost wages, and pain and suffering. It also pays for legal representation in the event that person sues and legal fees are owed.
For those seeking maximum protection, other coverages are also available, including additional living expenses, debris removal, earthquake coverage, emergency repairs and food spoilage; as well as mobile trip coverage during moves; water backup coverage for damage from overflowing sewers or drains; and replacement cost coverage, which pays off the home completely in case of total loss.
Valuable Discounts to Ask About
We're all looking for ways to save a buck or two—especially on insurance premiums.
To get the best rates on insurance premiums, owners should ask agents if they're eligible for the following discounts:
Approved protective devices, like monitored alarms or deadbolts
Secure anchoring to concrete slab
Newer mobile homes insured for replacement cost
Senior citizens discounts
Multi-policy deductions