by Penny M. Hagerman
It's no secret that shopping online can help save a wad of cash. From necessities like clothing and shoes to niceties like books, electronics and even cars, most people enjoy the convenience shopping online from home provides 24 hours a day.
But for those who'd like to cut the cost of auto insurance, simply hopping online and requesting an auto insurance quote can garner huge savings, too.
How to Get the Quotes You Need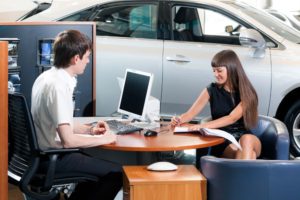 It's easy to find car insurance online. Follow these steps to make the process seamless and get insured quickly and affordably.
Enter the auto quote information requested in the quote box and indicate whether or not car and owner are currently insured.
If there's an auto policy in effect, answer the questions presented as honestly as possible.
Have all driver information at the ready to make the quote process quicker. Important information includes names, dates of birth and driving histories.
Determine ahead of time what coverage is needed and how much. This helps save time when comparing quotes.
Provide current or recent auto insurance policy information, including carrier name, effective dates, policy number and cancellation date.
With several auto quotes in hand, experiment by adding additional coverages or raising limits on each online quote. Then decide which quote fits the budget best.
How to Choose the Right Insurance
When applying for a free quote, price plays only one part in shopping for the right policy. But since saving money is the main concern these days, we'll start there.
To ensure the most competitive rate quote, get at least two or three price quotes. When requesting them, provide each insurer the same quote information. Once they know what kind of policy is needed and in what amounts, each insurer can get the personal details that affect rates and offer its best quotes.
Though familiar with large insurance companies, many people aren't aware smaller agencies also exist online that can quote competitive prices on auto insurance. Since it's wise to consider all providers, consider smaller insurers alongside larger ones. Call customer service numbers to find out whether or not questions can be thoroughly, quickly and accurately answered—and claims processed. When filing a claim, this can be one of the most important aspects of having the right policy with the right company.
Search online for the state department of insurance, and inquire about financial stability and reputation for any company before doing business with them. Look for complaints filed, and make sure each insurer is licensed to do business there. Then use a company like A.M. Best to rate each company's financial strength on a letter grade scale. The better the grade, the more trustworthy and sound the insurer.
Finally, trust your instincts, and go with the company and quote that makes the most sense.