According to the U.S. Department of Health and Human Services, "Adults 18 and older need 30 minutes of physical activity on five or more days a week to be healthy; children and teens need 60 minutes of activity a day for their health."
While physical activity is integral to a healthy mind and body, there are certain risks associated with any athletic endeavor, and some carry higher risks than others.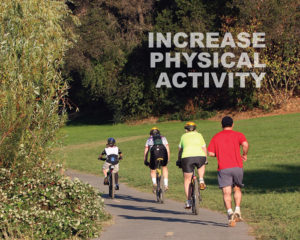 Given the alternative, howver, most sports are well worth the danger. After all, couch surfing is probably the riskiest 'sport' one can do: more Americans die from heart disease than any other cause, and according to the President's Council on Physical Fitness and Sports, "physically inactive people are twice as likely to develop coronary heart disease as regularly active people."
So if the choice is between football, which tops the list for injury rate, and watching TV, the choice is clear: hut, hut, hike.
Sports Injuries in 2006
Rank
Sport
Total participants
Total injuries
Injury rate
1.
Football
17,800,000
460,210
25.9
2.
Basketball
26,700,000
529,837
19.8
3.
Bike riding
35,600,000
480,299
13.5
4.
Soccer
14,000,000
186,544
13.3
5.
Skateboarding
9,700,000
125,713
13.0
6.
Ice hockey
2,600,000
21,825
8.4
7.
Softball
12,400,000
111,094
9.0
8.
Baseball
14,600,000
163,834
11.2
9.
Cheerleading
3,800,000
25,966
6.8
10.
Tennis
10,400,000
22,425
2.2
11.
Water skiing
6,300,000
9,928
1.6
Rate per 1,000 participants
Kids: Less Active and More Obese than Ever
Consider these alarming statistics from the President's Council on Physical Fitness and Sports, a group of volunteer citizens that advises the president:
16 percent of children and teens aged 6 to 19 were overweight in 1999-2002, triple the proportion in 1980. Fifteen-percent of children in the same age group are considered at-risk for overweight. The percentage of overweight African American, Hispanic, and Native American children is about 20%.
More than 10 percent of children between the ages of 2 and 5 are overweight, double the proportion since 1980.
Parents encouraging their children to join a sports team may want to consider the injury rate of certain popular sports, but it's also worth noting that by following safety tips and common sense, many sports-related injuries can be prevented. Before you or your child start a new athletic endeavor, be sure to do your homework and strap on the relevant protective gear.