Kathryn Hawkins
For some fortunate folks, there's little need to worry about how much health care costs: It's fully paid by their employers and they have no out-of-pocket deductibles.
However, this scenario is becoming less common all the time. Today, many employers are splitting the cost of health insurance with their workers, and they're turning to high-deductible plans that make you pay out of pocket for most health care expenses.
If you want to carefully track your health care expenses, here are six apps and services that can help.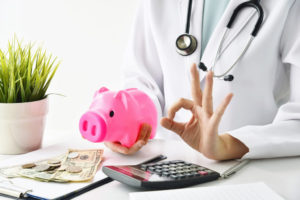 Available on desktop; mobile app in development
This free app links up with your health insurance account and helps you track records for each family member's health care services and expenses. You can manage your claims, keep track of what's been paid and how much your insurance provider has chipped in, and even pay bills online. The app can even review each health insurance claim and cut through the jargon to explain why you're not receiving full reimbursement for a claim. And if you're looking at changing health plans, Simplee can give you recommendations on the best options based on your history of health insurance claims.
Available on desktop
HealtheHuman is an online tool that helps you track and manage your daily health. You can use the tool to monitor symptoms of a particular condition on a day-to-day basis, which you then can present to a doctor — a great solution for people with chronic diseases like diabetes. As well as tracking many health-related markers, such as blood pressure or cholesterol levels, the tool has a chart to help track health-related expenses. The basic service is free, but for unlimited data tracking, you'll need to upgrade to a premium version (a year of access for $40).
CakeHealth
Available on desktop and iOS
CakeHealth, a free service that helps you monitor your family's expenses, collects data from your health insurance online accounts. The software alerts you about new bills, shows you how much you've paid and how much your health insurance provider has paid, and catches billing errors. CakeHealth also helps you make the most of your insurance by reminding you when it's time to schedule a checkup or other routine health service.
Intuit Health Debit App
Available on iOS and Android
The Intuit Health Debit card is a way for employers to give their employees tax-free money to pay for health expenses — a good option for companies with high-deductible plans or companies that don't offer insurance. Employees who have Intuit Health Debit cards can download the Intuit Health Debit App, which helps track health-related purchases on their debit cards. The card can be used to pay for purchases beyond those that would be covered by a traditional health plan, such as orthodontics, chiropractic visits and vision expenses. The service is free for you; your employer will pay $10 per employee each month plus a $50 set-up fee.
Available on desktop
HealthFrame is a tool that bills itself as "the family health organizer." The service helps you store all of your family's medical history online, so you can easily verify information, such as whether one of your children is allergic to a certain type of medicine. The tool enables you to share medical records with your doctors — which is especially important if you're switching practices. One part of the tool is the "health expense tracker," where you can make note of your medical bills. After a free 15-day trial, the tool costs $39.95 for permanent access.
Healthcare Blue Book
Available on desktop, iOS and Android
This free website helps you research "fair market" values for particular health care services before you need them. This information is especially helpful if you're able to schedule the procedure in advance, such as a medical screening. However, by comparing your medical bill with the average cost of the service you received, you may be able to argue for a price reduction if your bill is higher than the norm.