Linda Childers
As health care costs continue to soar in the U.S., many consumers are turning to online crowd-funding websites to help cover co-pays, deductibles and other out-of-pocket costs not covered by their health insurance plans.
Crowd funding, which is when a group of people pool their money, first became popular as a way to help startups and artists secure funding. In recent years, a new crop of crowd-funding websites has launched, including GiveForward.com, GoFundMe.com, YouCaring.com, HumanTribeProject.com and Fundrazr.com.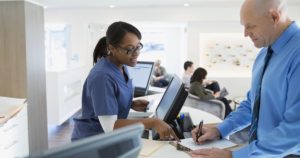 These websites give consumers a viable alternative to overwhelming debt and bankruptcy by allowing them to raise money online to cover their medical costs. With online fundraising sites, consumers can solicit donations from friends, family and others in their online social networks to help pay medical costs and other expenses.
"Individuals who turn to crowd funding generally do so because they've exhausted all other options," says David Bakke, editor of MoneyCrashers.com, a personal finance site.
And many of these people employ crowd funding for health care costs as a last-ditch effort. "Many have high-deductible health plans or their insurance coverage has simply run out," Bakke says.
The benefits
Laura Wilson of Virginia started a fundraiser on GiveForward.com to raise money to cover breast cancer treatment for her sister Nicole Hobson. Hobson was a 27-year-old married mother of two when she discovered a breast lump in 2010.
"Just before Nicole's diagnosis, her husband had just been laid off his job and they didn't have health insurance," Wilson says. "There were so many expenses to be paid for including medications, gas to get to and from the hospital (a two-hour drive), additional surgeries, and the list goes on and on."
Wilson turned to the Internet for help in raising money for Hobson's treatment and living expenses. Wilson collected $39,244 to help her sister.
According to the Kaiser Family Foundation, the annual cost of group health care is $6,000 to $7,000 for individuals and $14,000 to $15,000 for families. Employers typically cover three-fourths of the cost and employees the rest. Even if you have health insurance through an employer, your policy doesn't cover many expenses, including experimental treatments and lost wages. According to crowd-funding site GiveForward.com, medical costs are the No. 1 reason for bankruptcy in the U.S.
"Americans pay an average of $8,500 a year for out-of-pocket medical expenses," says Desiree Wrigley, founder and CEO of GiveForward.com.  "There's often a big gap between the amount the average American can afford to pay for health care and the amount that's actually covered by their health insurance."
On GiveForward.com, pages are set up for families who need help with situations like:
Paying for a funeral.
Losing health insurance because of a layoff and trying to come up with money for a catastrophic illness.
Covering cutting-edge cancer treatment, medical equipment, fertility treatments and medication.
Crowd-funding requests range from $1,000 to several thousand dollars, with most donors giving modest amounts, between $10 and $50. Donations add up quickly, with many crowd-funding campaigns raising several thousand dollars in a matter of weeks.
Wrigley says sites such as GiveForward.com provide consumers with a sense of community. By tapping into their social media contacts via Twitter, Facebook, Instagram and LinkedIn, fundraisers can reach enough people to generate donations for medical expenses.
"It's important to reach out to friends and co-workers since they will provide the majority of donations," Wrigley says. "Only 25 percent of donations are received from total strangers who first read about the beneficiary's plight on our website."
In return for helping consumers raise money, crowd-funding sites charge a processing fee of 7 percent to 12 percent.
Insurers get in on new trend?
Michele Hibbert-Iacobacci, a vice president at Mitchell International, which sells medical claims software, says she expects health insurance companies to closely look at the crowd-funding trend.
"Offering crowd funding could be an innovative way of helping customers recoup costs that aren't covered by their insurance plans," she says. "It can be seen as a type of supplement to insurance policies, going beyond medical bills and covering costs such as rent, mortgage, utilities and other daily living expenses during a person's recovery."
In the crowd-funding arena, Hibbert-Iacobacci says her company recently started working with several companies that handle billing for hospitals.
"Hospitals are looking at crowd funding as a potential way to help self-paying patients meet their financial obligations to the hospital in a way that is supportive and helpful.  The idea is that by partnering with sites such as GiveForward and offering them as a resource to consumers, hospitals might improve patient satisfaction through the billing cycle," Wrigley says.
Tips for crowd funding
If you decide to take part in crowd funding, Wrigley say these tips can lead to greater success:
Be as specific as possible about how the donations will be used. Will the money pay for alternative treatments such as acupuncture or will it be used to pay for a loved one's living expenses while he or she undergoes chemotherapy?
Post frequent online updates about your loved one's health situation. The more updates you give followers, the more aware they will be of your plight – and the more successful your fundraiser will be.
Research the various crowd-funding sites to learn their rules and fees. Most charge a percentage of what you raise to cover administrative costs. For example, GiveForward deducts a 7 percent fee from donations to cover credit-card processing fees and other business expenses, according to Wrigley.