Shopping for auto insurance sometimes seems like an overwhelming process. Hundreds of auto insurance specialists constantly vie for your business, making the decision of which one to choose complicated.
But choosing one that will always be there to meet your needs, answer your questions and give you the personalized service you want can be done. Here's how.
Company Stability
Company stability is one of the most important elements to consider when searching for the right car insurance company, and is easily determined by visiting a few key Web sites. The first place to check is your state department of insurance, easily found by conducting a search on your favorite search engine. Your state's DOI can tell you whether insurers are licensed to conduct business in your state, and how particular providers rate, according to consumers who have already done business with them.
Check each company's ability to pay claims by examining its financial strength rating. Independent ratings companies like Standard & Poor's, A.M. Best and Moody's provide categories against which you may compare insurers' stability. You can contact the insurers themselves for their company ratings, or request them from these ratings services.
Customer Service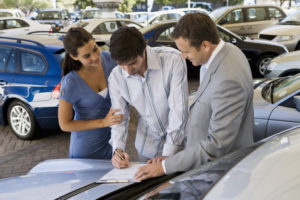 Many DOIs create a complaint ratio that takes into account both business volume and overall customer satisfaction. It is important to compare insurers of equal size to get a true feel for how they rate in both categories comparatively.
But complaint rate is only one important measure of customer service. Other issues to consider include insurer claims hours, convenience and ease in finding an office near you, and customer service philosophy. You want an insurer who will work to meet your needs, making it easy to file a claim or get reimbursed for repairs following an accident.
It is important to determine what is most important to you before selecting a company to fit your particular situation. Often, the customer service you receive depends upon carrier size. Local or regional carriers have far fewer offices but may give you more personalized service. Larger, national specialists may have many offices but make you feel like just another number, rather than a valuable customer.
Become knowledgeable about how others rate providers before deciding to use their services yourself. What friends, family and other consumers have to say could help you find the best insurer around—or save you a lot of heartache.
Making the Final Choice
Don't let finding an auto insurance specialist confuse you. Find out how stable and reliable each insurer is before you make that final decision. Then proceed with confidence, knowing you've done everything possible to ensure a positive experience.