For classic car enthusiasts who can't wait to hop behind the wheel and parade their latest find, insurance is a must. With thousands of dollars poured into the wheels they've pruned and modified with new body parts, engine replacements and other major updates, protecting their investment just makes sense.
But the right protection on a standard vehicle isn't necessarily the right protection on these rare finds. Because of their age, value and the cost of replacement parts, old stand-bys  are often in a class all their own, requiring special policies to cover those prize speedsters, convertibles, muscle cars or simply older vehicles from days gone by.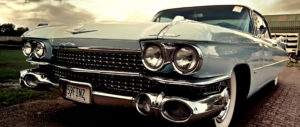 While traditional auto insurance is designed to protect cars that are driven daily and often put in harm's way on the road, insurance for relics offers a different kind of protection for a different kind of car.
Most owners drive their vehicles only to shows, exhibitions and the like, adding a minimum number of miles to their car's odometer each year. Because of this limited amount of driving, classic cars need more basic coverage and are often cheaper to insure than newer, more traditional automobiles.
On the other hand, parts can be much harder to obtain and replace in case of theft or damage. That's why most insurers require the vehicles to be garage-kept under lock and key: to lower the risk of insurance claims.
Special Considerations for Special Cars
Because these vehicles usually appreciate in value, it's often difficult to derive a realistic estimate of their actual worth. And with various modifications performed from one owner to the next, owners need to make sure their cars are adequately insured, depending on that bottom line.
Under traditional auto policies, vehicles involved in accidents are either repaired or totaled and a check issued to the owner for actual cash value. But in the case of classics, value is usually determined through "Agreed Value." This method sets each car's worth based on a prior amount agreed upon by both the car insurance company and the insured, and guarantees that owners receive what they are due if and when they suffer loss—with no deduction for depreciation (as with actual cash value policies).
When older cars undergo long term repairs, or their owners refrain from driving them for long periods of time, it's wise to cut the insurance policy back to only fire and theft coverage. This helps save money, yet still covers the vehicle on those special occasions when it's out on the road.