Nick DiUlio
For decades, auto manufacturers and regulators have used rigorous tests to measure the safety of everything from child car seats to air bags. But it may come as a shock to many pet owners that no safety standard exists for the restraints meant to keep dogs secure inside the car. Thanks to a new partnership between Subaru and the nonprofit Center for Pet Safety, that's about to change.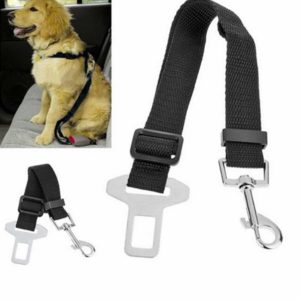 According to Lindsey Wolko, founder and CEO of the Center for Pet Safety, Subaru will provide funding for extensive crash tests designed to measure the effectiveness of car safety restraints for dogs. Wolko says testing should begin soon, and the results will be published in the summer of 2013.
"Subaru is a very dog-centric automaker, and they understand the need that drivers have to travel safely with their pets," Wolko says. "This partnership is going to go a long way toward making sure our pets are safe and secure."
A history of failure
In 2004, Wolko was driving on the highway with her dog Maggie, who was secured by a harness in the backseat. Wolko suddenly had to slam on her breaks to avoid an accident, and Maggie became painfully entangled in the harness that was supposed to protect her.
"It was a horrific moment," Wolko recalls, adding that the product didn't do what it was supposed to do – and Maggie had spinal injuries as a result.
After founding the Center for Pet Safety in 2011, Wolko decided to conduct her own test of the four most popular dog harnesses on the market. Using a 55-pound crash-test dog dummy, Wolko ran the harnesses through a battery of tests modeled after the same vehicle safety standards used to test child seats. The results were startling. All four harnesses failed to prevent pets from being injured in crashes, even at speeds as low as 30 miles per hour.
"What's so surprising is that there is no oversight whatsoever for these products, which means manufacturers can make all sorts of claims without backing them up with actual crash tests," Wolko says. Industry representatives could not be reached for comment.
Sheriece Matias, communications manager for Subaru, says it was Wolko's pilot test that first got the automaker's attention.
"As a company, we really advocate for animals and animal safety, and Lindsey's passion for this was really exciting," Matias says. "She said that with some additional funding, she could really flesh out these safety tests and everyone here thought it was a great idea."
The test
According to Wolko, the Center for Pet Safety will analyze 12 dog harnesses for small, medium and large crash-test dogs using three crash tests. The goal is to study several safety factors:
Crash worthiness. Does the connection point of the harness break in a collision or hard stop?
Mitigating g-forces. "When you slam on your brakes, there's a lot of pressure put on the dog's body," Wolko says. "We want to know how well these harnesses ease that pressure so it won't injure the pet."
Preventing rotation. How well does the harness prevent the dog from sliding side to side or back to front?
Wolko says details of tests still are being ironed out. In the end, she hopes to offer a certification program for harness manufacturers, letting consumers easily determine which products have passed the tests.
"A test like this has been a long time coming, and I'm excited that it's finally taking place," says Dr. Barry Baumel, co-founder and president of PetBenefits.com, a pet care association. "Not only do faulty restraints harm the dog, but if that dog goes flying through the car in an accident it's like a missile, and that's very dangerous to the driver as well."
Insurance coverage for your furry friend
Even the safest restraints can't prevent every possible pet injury, and several auto insurers are taking steps to make sure drivers are financially compensated if a pet gets injured in an accident.
For instance, Progressive has been offering pet coverage since 2007. If you're involved in an accident, the company covers not only the people in the car but also the cats and dogs as well.
Progressive spokesman Jeff Sibel says the insurer's pet-injury coverage is part of the company's collision insurance and provides up to $1,000 for veterinary bills.
In 2011, Chubb in New Jersey rolled out an auto policy that covers up to $2,000 for pets injured in an accident. In the coming months Chubb hopes to offer similar policies nationwide. Several other insurers are starting to add endorsements to auto policies that provide up to $500 in pet coverage.
"Across the board, the message is getting out," Wolko says. "People need to pay more attention to the safety of their pets while riding in the car."