Mary Lou Jay
Even if you're fortunate enough to have good health insurance, a stay in the hospital may be more costly than you expected because of expenses that aren't covered under your policy. A hospital confinement insurance policy could help pay some of those costs.
A hospital confinement insurance policy also is known as "hospital income insurance." Unlike the benefits paid under regular health insurance, the payments you receive under a hospital confinement insurance policy aren't linked to medical treatments. This type of policy simply provides a pre-determined cash benefit for each day that you're in the hospital (up to the policy limits). This is usually at least $40 a day, according to the National Association of Insurance Commissioners.
You can use the money from a hospital confinement insurance policy to help pay for child care or a pet sitter, cover hospital co-pays and deductibles, upgrade to a private room, hire a private-duty nurse, pay for phone or TV service for the hospital room, or help defray the transportation and lodging costs that family members might incur while you're in the hospital.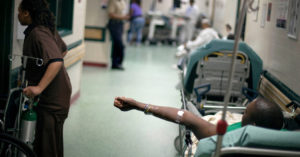 Hospital confinement insurance is available for:
Single parents with children.
Some insurers may limit coverage or benefits for people age 65 and older. The rates will vary according to the age when you buy the coverage (the younger you are, the lower the rates). Once you've purchased the coverage, the premium rates are guaranteed renewable, according to A.M. Best, so the insurer can't raise your rates unless it raises the rates of everybody who's in the same rate class as you.
The rates, payouts and policy restrictions for hospital confinement insurance will vary by insurer and by state, and it's not available in every state, according to A.M. Best.
The amount of time a hospital confinement policy will cover you varies by policy and by insurer. State Farm, for example, will pay full policy benefits for up to a year if a policyholder is hospitalized for a covered sickness or accident. Depending on the state where you live, it will pay additional benefits if you're hospitalized in an intensive care unit or a cardiac care specialty unit. If the policyholder requires extended care in a nursing home or other facility after hospitalization, it will pay half the policy benefits under certain conditions.
The National Security Group, on the other hand, provides extra benefits for people hospitalized for cancer or heart attacks. But it doesn't provide any payments if a policyholder goes into a nursing home or extended care facility.
As with health insurance, if you decide to purchase hospital confinement insurance, you'll want to read the policy carefully. Compare rates, payouts and restrictions. For example, if you have a pre-existing condition, is there a waiting period before hospitalizations that result from that condition are covered? Hospital income insurance can provide much-needed cash at a difficult time, but you want to make sure that you understand what you're paying for.