Amy Higgins
Of all the provisions of the federal health care reform law, the health insurance mandate is the most publicized and controversial. But one of health care reform's lesser-known buzzwords, "accountable care organizations," has the potential to dramatically change the health care landscape.
Accountable care organizations (ACOs) are networks of providers that include physicians, other clinicians and hospitals. Together, they commit to providing care and sharing accountability for the cost and quality of care for Medicare patients, according to the National Institute for Health Care Reform.
ACOs are featured in the health care reform law; in March 2011, the U.S. Department of Health and Human Services proposed the rules that will govern them. The expectation is that these networks will improve and streamline care for Medicare recipients — and save money.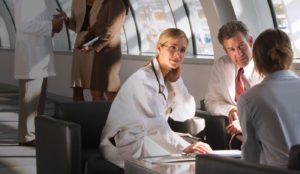 How do ACOs work?
Doctors and health care facilities can form ACO networks voluntarily. Each ACO must care for at least 5,000 Medicare beneficiaries, and their success will be measured across these categories:
Patient and caregiver experiences.
Care coordination.
Patient safety.
Preventive health.
Care for elderly and at-risk populations.
ACOs must meet those standards and saving money while doing it. If an ACO manages to save the Medicare program money while adhering to the required standards, it gets to keep some of that savings. ACOs that do not meet performance standards could lose their savings benefits as well as their place in the program.
How can ACOs save money?
To be rewarded, ACOs must figure out ways to cut costs while maintaining high standards for care. How is that possible?
According to the Department of Health and Human Services, ACOs can reduce costs by working together to make sure patients get the right care at the right time. For example, by making sure a patient meets regularly with a primary care doctor to detect health problems early, an ACO could save that patient (and Medicare) an expensive trip to the emergency room. Moreover, according to the National Institute for Health Care Reform, having a group of providers working together could result in more efficient care — and cut out unnecessary or duplicate treatments.
Uneasy about ACOs
The ACO initiative is scheduled to launch in January 2012, but the race to form ACOs has already begun, according to Kaiser Health News. But, along with the government's optimism for the program, opponents have concerns about unrealistic expectations and the pressure the program places on doctors.
With so many baby boomers entering the Medicare system, many wonder whether this government-administered health care program will wreak even more havoc on the nation's debt. The Department of Health and Human Services claims that rewarding a focus on patient needs will save as much as $960 million over three years for the Medicare program.
But in a March 2011 article, Kaiser Health News points out that this optimistic estimate may not solve Medicare's cost problems, as it is just a fraction of what is spent on Medicare. In fact, the article says, the ACO program provides "good political cover" for an experiment that likely will not pay off for years.
Health care providers also have concerns about the program. Unlike with health maintenance organizations (HMOs), ACO patients are free to see out-of-network doctors, according to Kaiser Health News. ACOs must maintain a minimum number of patients to ensure they can reap savings — but if patients are visiting doctors not involved in their program, their numbers could fluctuate. Moreover, no matter how much effort an ACO puts into a patient's care plan, the patient simply could go elsewhere.
Another controversial component of these new networks is the question of who can become an ACO patient, according to Kaiser Health News. This is a great concern for providers because, despite their best efforts to control costs, they simply may end up with a lot of sick patients who need expensive care.