Mary Lou Jay
When it comes to safety, vehicle size as well as a slew of features and technologies can affect how you and your car will fare in a crash. While there's some debate about whether it's the car or your own driving capabilities that play the biggest role in your safety, investing in a car with certain safety features can add an extra layer of protection.
If you're in the market for a safer vehicle, here are some features you may want to look for while you shop.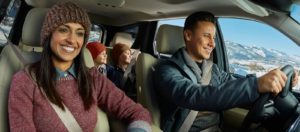 Electronic stability control
One crash avoidance feature that's becoming increasingly common is electronic stability control, (ESC). In fact, federal law requires all vehicles from the 2012 model year to come equipped with it. An ESC system's electronic sensors and microcomputer sense when a driver is over-steering or under-steering (which often happens when swerving or sliding) and automatically applies the brakes to the appropriate tires to help the driver get the vehicle back under control.
ESC systems, also known as dynamic stability control, vehicle stability control and dynamic stability and traction control, can reduce fatal single-vehicle crash risk by 49 percent, according to the Insurance Institute for Highway Safety. NHTSA estimates that ESC can prevent 64 percent of car rollovers and 85 percent of SUV rollovers.
Forward crash warning
Some new cars also offer forward crash warning as an option. Using radar or laser sensors, these systems alert drivers if a crash is imminent so they can take preventive action. Lane departure warnings signal drivers if they drift into another lane, and blind spot warning systems let them know whether they're about to make an unsafe lane change, according to the University of Michigan Transportation Research Institute.
Air bags
Front and side air bags and curtains can offer protection to the head, chest and pelvis of vehicle occupants during side-impact crashes. You may have heard that air bags can cause serious injuries when they deploy. This can occur if you're too close to the air bag, according to the Insurance Information Institute. Be sure to choose a car that allows you to sit comfortably and reach the pedals without getting too close to the steering wheel.
Antilock brakes
Don't forget to look for antilock brakes, which help a driver maintain control of a car when the pavement is slippery or wet. In some cases, antilock brake systems can shorten the vehicle's braking distance.
Safer vehicles offer more protection for drivers and passengers, and the government conducts crash and rollover tests on new vehicles each year so buyers can make informed decisions. Dealers should be able to provide you with information about a specific vehicle's crash and rollover test results, but if you want to check several different makes and models at once, you can find all that test results at NHTSA's website. One rule of thumb to remember: A heavier vehicle generally will be safer in a crash than a lighter vehicle.
One bonus of driving a safer car is that you may be entitled to an auto insurance discount. Allstate, for example, offers discounts on cars equipped with air bags, motorized seat belts and antilock brakes. GEICO offers discounts for air bags, antilock brakes and daytime running lights.