If you're an Indiana resident looking for insurance, you're in the right place. We've compiled all the info you need to help you find home, auto, life, health or long term care insurance right here on this page.
We recommend you read it over, contact the Indiana Department of Insurance at 317-232-2395 with any questions, and let us help you find the coverage you need today.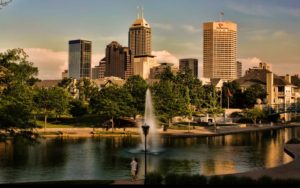 An auto insurance policy will protect you from financial loss in the event of an accident. That insurance plan is an agreement between you and your insurer which states than in exchange for paying the premiums, the insurer will pay for any losses or damages as outlined in your policy.
The state of Indiana requires all drivers to have minimum liability coverage in the following amounts:
$20,000 for bodily injury for one person involved in an accident
$40,000 for bodily injury for all persons involved in an accident
$10,000 for property damage caused by an accident
You may choose to purchase collision or comprehensive coverage in addition to liability to protect yourself from theft, or physical damage caused by collision, fire or hail.
To ensure you receive the best car insurance rate possible, we recommend you:
Maintain a good driving record. If you've had any convictions or at-fault accidents in the last three to five years, your premium will go up. Take points off your record by enrolling in classes such as a defensive driving course. Completing the course may take up to four points off your record.
Keep a clean line of credit. Recent studies have shown that up to 90% of insurers look at credit to determine a consumer's risk factor.
Drive a low-profile car. Insurers know you will be more likely to speed in a sports car than a mini van.
Take out multiple policies. If possible, insure more than one car under your Indiana auto insurance policy. Or, try to take out a homeowners policy with the same company.
Ask about additional discounts. The Insurance Information Institute recommends asking for discounts for a low annual mileage, student drivers with good gradesand cars with anti-theft devices.
Most Indiana residents are insured through a group plan sponsored by their employers. Premiums for these plans are generally low, and are paid by the employer. Unfortunately, those who are self-employed, between jobs or not covered by an employer find it very difficult to find affordable health insurance. If you find yourself in this situation, you should consider purchasing individual health insurance.
The following types of health coverage are available in your state:
Fee-for-Service plans: Often called traditional or indemnity health insurance. You choose and visit a doctor, who then submits a claim to your insurance company for reimbursement for each individual service provided. (This often occurs at 80 percent of reasonable and customary charges.) You are responsible for the remaining charges, called co-insurance.
If your doctor charges you more than what is usual or customary for your area, you must pay the remainder.
Managed-care plans: 
Include Health Maintenance Organizations
(HMOs), Preferred Provider Organizations (PPOs), and Point-of-Service plans (POS). These plans provide comprehensive health services and medical treatments to members. Your coverage is paid in advance, so you do not need to pay for each service individually. Out-of-pocket expenses are typically low and there are generally no deductibles or copayments; however, you must use health care providers within the provider's network.
Talk to an insurance agent or company to determine what kind of coverage you need.
Your homeowners policy will protect you from financial losses caused by disaster, such as those caused by storm, fire and theft. A standard policy protects your home and the items you keep in it.
There are four basic types of homeowners plans:
HO-1: This basic policy offers protects your dwelling and personal property from 11 perils, some of which include fire and lightning; windstorm or hail; riot or civil misconduct and damage caused by vehicle or aircraft.
HO-2: This is a basic "plus" policy which offers protection from the basic 11 perils plus six more. Some of these include weight of snow or ice; falling objects; electrical damage and water damage from home appliances.
HO-3: This is an extended policy for special homeowner items. It provides protection from 17 perils not cited in your policy with the exception of earthquake, war and nuclear accident.
HO-8: This is a common policy for older homes and offers protection from 11 perils. An HO-8 policy differs from a basic policy because it covers repairs or actual cash values, excluding rebuilding costs. If you own a home with special features (such as historic or architectural), you may want to consider this plan as it adds to your home's replacement cost.
A word of caution: A home insurance policy does not cover flood damage. You will need to purchase flood insurance separately through your agent if you feel you need it. You can also contact the National Flood Insurance Program with questions at 1-800-427-4661.
According to the Life and Health Insurance Foundation for Education, the average American has $110,000 in life insurance coverage — roughly three times his or her gross income. However, after an analysis of all the things your life insurance plan needs to cover, you may find that you need upwards of 10 or 15 times your gross income.
In determining your need for life insurance, you will want to consider coverage for the following:
Income Replacement: Your life insurance will financially support your dependants in your absence. Your life insurance policy can also supplement reduced benefits to the surviving spouse or help finance retirement.
Pay Outstanding Debts and Long-Term Obligations: Consider your life insurance plan as a means to compensate for unpaid medical expenses, burial costs and credit card debt. You can also use your life insurance policy to pay off a mortgage or help pay for college.
Estate Planning: You may want to use the proceeds of your life insurance policy to pay your estate tax so your beneficiaries won't have to liquidate their assets.
Charitable Contributions: You may want some of the proceeds from your life insurance policy to go toward your favorite charity or organization.