If you're an Illinois resident looking for insurance, you're in the right place. We've compiled all the info you need to help you find home, auto, life, health or long term care insurance right here on this page.
We recommend you read it over, contact the Illinois Division of Insurance's Consumer Assistance Hotline toll free at 866-445-5364 with any questions, and let us help you find the coverage you need today.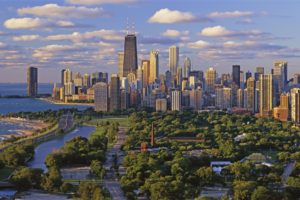 Illinois law requires all automobile owners to acquire minimum amounts of Illinois car insurance in order to operate a vehicle within the state.
Required coverages include:
Liability: Pays for injuries you cause to another person, or property damage you cause through negligent driving. Includes bodily injury coverage of $20,000 per person per accident and $40,000 per accident, as well as property damage of at least $15,000 per accident.
Uninsured Motorist: Covers your own bodily injury when involved in a hit-and-run accident, or when hit by a driver who is at fault but holds no insurance. $20,000 per person and $40,000 per accident coverage is required by law.
Underinsured Motorist: Pays the difference between your uninsured motorist coverage and the at-fault driver's liability coverage. Required only when you purchase higher limits of uninsured motorist coverage.
It is always a good idea to consider buying higher limits of car insurance than those mandated by state law. State minimums may not be sufficient to cover the complete value of your car, provide adequate finances for medical bills incurred as the result of an accident, or protect you fully from lawsuits.
One other type of coverage which may be required by your lender if you decide to finance your car is physical damage. This pays for damage to your car, minus your deductible, in case of an accident, and includes collision and comprehensive. The collision portion pays for damage incurred if you're involved in an accident with another car or fixed object, whereas comprehensive pays for damages due to other causes, such as hail, fire or theft. Talk to a knowledgeable Illinois car insurance agent to determine if you need physical damage coverage for your car.
Illinois residents are most commonly insured through a group plan sponsored by their employers. Unfortunately, those who are self-employed, between jobs, or not covered by an employer find it very difficult to find affordable health insurance.
Choosing the right insurer can be critical to your well being. Your state's Department of Insurance recommends asking the following questions when considering purchasing a medical insurance policy:
Is the company/agent licensed?
How long has the company been in business?
What is the company's complaint ratio?
How can I get in touch with the agent or company?
How do agencies such as A.M. Best rate the company?
Regardless what type of health insurance coverage you buy, you have a right to receive detailed information from your health insurance company about all the specifics of your health insurance policy.
You also have the right to receive coverage for any necessary emergency services when your condition is serious enough to require immediate medical attention.
You have the right to apply for a referral from your primary care physician when your condition requires ongoing care from a specialist.
Perhaps most importantly, you have the right to appeal decisions made by your health insurance company.
Illinois home insurance protects you from financial loss due to damage, theft and many other hazards. And since your home is most likely your largest single investment, it is important to acquire the right coverage in the right amounts. But how can you know what you need?
There are three methods for valuing homes in your state, and the method used determines how much money you receive if you ever have to file a claim.
One technique is insuring for your home's actual cash value. This pays you for the replacement cost of your home minus its depreciation. If you suffer a loss under this valuation method, your insurer reimburses you what your property was worth immediately before your loss.
Another technique is insuring against your home's replacement cost. In this case, you are paid what it would cost to rebuild or replace your home using similar materials, up to the limits of your policy. This method pays you more because there is no deduction for depreciation.
Finally, you may insure for your home's guaranteed replacement cost, which pays you its total replacement cost value—even if this cost exceeds your policy limit. However, your Illinois homeowners insurance company may limit this to a certain percentage above your policy's limit.
You should consider buying life insurance if:
You're married and your spouse depends on your income
You have an aging parent or disabled relative who depends on your income
You have children
Your retirement pension, savings or other assets won't provide your loved ones adequate support when you die
You have a large estate and expect to owe estate taxes
You own a business
You may purchase life insurance on an individual or group basis. Most group plans are provided by employers, and are usually term life insurance that is renewed yearly. Illinois residents who are unemployed, self-employed or not able to purchase life insurance through their employer should consider an individual life insurance plan.
Life insurance in this state is obtainable in two types: term life and whole life (sometimes called permanent life). We've assembled a few key points about each type below to help you determine which insurance category you should consider. A life insurance agent can explain these characteristics further and help you determine which type is most appropriate for you.
Term Life
Purchased for a specific time period; usually one, five, 10 or 20 years—or up to age 60 or 65
Benefits paid only if you die while the policy is in effect
Generally cheaper than whole life insurance
Usually more practical for those who need a large amount of coverage for a particular period of time
Ends when you stop paying premiums or at the end of the specified term
May be "convertible" to a whole life policy
Whole Life
Provides lifetime coverage
Accumulates cash value over time
May pay you dividends
Keeps premium rates stable as long as the policy is in effect