If you're an Oregon resident looking for insurance, you're in the right place. We've compiled all the info you need to help you find home, auto, life, health or long term care insurance right here on this page.
We recommend you read it over, contact the Oregon Insurance Division at (503) 947-7980 with any questions, and let us help you find the coverage you need today.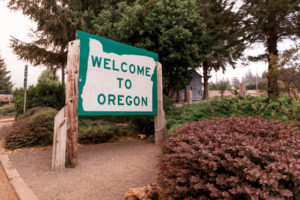 The required auto insurance coverages in this state are bodily injury, property damage, PIP (Personal Injury Protection) and UMBI (Uninsured Motorist Bodily Injury) insurance.
The minimum required limits are:
$25,000 per person and $50,000 per accident for bodily injury
$10,000 per accident for property damage
$10,000 for PIP; and
$25,000 per person/$50,000 per accident for UMBI insurance.
In the state of Oregon, you are required by law to buy bodily injury coverage. This coverage pays for the medical expenses, lost wages, and pain and suffering you cause in an automobile accident. The minimum limits are $25,000 per person and $50,000 per accident.
The state also requires you to buy property damage coverage. This may include damage to buildings, other vehicles or their contents, and fences and road signs. The minimum limits are $10,000 per accident.
PIP (Personal Injury Protection) insurance is required. This covers medical expenses, loss of earnings and other essential services for all parties involved in an accident, depending on the circumstances. The minimum coverage is $10,000 per accident.
Uninsured motorist bodily injury insurance requires your insurance company to pay any bodily injury damages you or your passenger suffer if you are in an accident with an uninsured motorist. The minimum coverage for this type of insurance is $25,000 per person/$50,000 per accident.
Health insurance in your state is regulated by the department of insurance, which oversees the practices and laws concerning the statewide insurance industry.
That department protects you in the following ways:
If you are covered under a group plan, nondiscrimination protects you by barring denied or limited coverage on account of your health status.
The guaranteed issue protects you when purchasing group health insurance for a small business. It ensures that you cannot be turned down because of the age or health status of your group members.
Most health insurance policies are guaranteed renewable. This means that your health insurance company cannot cancel your policy if you get sick.
Your individual insurance premium cannot be determined by your health status. This practice is called the modified community rating.
Premiums under group plans are likely—but not guaranteed—to be lower in cost. If you are unable to participate in a group plan, look for an individual health insurance plan.
When purchasing that type of policy, your premium can be determined by factors such as your age, benefits plan, family composition and geographic location. Remember that the "modified community rating" ensures that you will not pay a higher premium because of your health status.
If you are unable to afford health insurance in your state, there are still options available to you:
If you earn a low or modest income, you may be eligible for Oregon Medicaid. Oregon Medicaid offers free coverage for pregnant women, families and the elderly and disabled.
If you have children under the age of 18 who are uninsured or underinsured, they may qualify for the Oregon Children's Health Insurance Plan (OR CHIP).
If you have a family and earn a low or modest income, you may be eligible for subsidized health insurance through the Family Health Insurance Assistance Program (FHIAP).
Free or subsidized screening and treatment for breast and cervical cancer is available through the Oregon Breast and Cervical Cancer Medicaid Program, for women who are eligible.
The number one way to save money on insurance is to shop around. Many insurance companies offer comparable products for very different prices. The only way to find the right policy for you is to compare these products and prices.
When buying homeowners insurance, there are four levels of coverage you must consider. These are sections A-D on your policy.
Section A – Includes protection for your house, any attached structures, inside fixtures and built-in appliances.
Section B – Includes coverage for detached structures like garages, as well as fences and patios.
Section C – Includes coverage for your personal property—essentially the contents of your home. Be aware that there may be limits on coverage for firearms, artwork, jewelry, electronic data, business property and money. Your car will also not be covered by your homeowners insurance.
Section D – Includes a provision for living expenses if you cannot live in your home while it is being repaired, or if you are denied access by government order.
When you choose your home insurance policy, you will decide what limits you want for each of these sections. Keep in mind that it is always important to take into consideration the replacement value of your home and possessions, rather than the cash value. That way, you're sure to have enough money to return your home to its pre-claim condition, regardless of the damage.
If you rent your home, you should purchase renters insurance, which covers your personal possessions and liability. Whether you live in a condominium, townhouse, apartment or mobile home, purchasing coverage for your possessions ensures you can replace them, should the unexpected happen.
Life insurance is sold by insurance companies to help meet the financial needs of your loved ones in the event of your death.
Many experts consider a life insurance policy to be the foundation of sound financial planning. It can protect your family in the event of your death by providing a supplemental income for economic necessities.
According to the Life and Health Insurance Foundation for Education, the average American has $110,000 in life insurance coverage—roughly three times his or her gross income. However, after an analysis of all the things your life insurance needs to cover, you may find that you need upwards of 10 or 15 times your gross income.
If you have dependents, you will need to account for short term expenses when purchasing life insurance. Such expenses could include funeral and burial costs, estate tax and any outstanding medical bills.
You will also need to account for long term expenses such as house payments, college tuition and retirement savings.
If you don't have dependents, you still need to consider your economic responsibility. You may want to purchase life insurance so you will not be a financial burden to others if you die. You also may want to leave some money behind for close family members, friends or charitable organizations.
If you are young with no dependents, you will want to purchase life insurance as soon as possible in order to lock in a good rate for years to come.
Whether or not you have dependents, think about any financial assets you may have when projecting your life insurance needs. Make sure to include cash, savings, Social Security and pension.