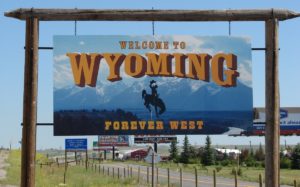 If you're a Wyoming resident looking for insurance, you're in the right place. We've compiled all the info you need to help you find home, auto, life, health or long term care insurance right here on this page.
We recommend you read it over, contact the Wyoming Insurance Department at (307) 777-7401 with any questions, and let us help you find the coverage you need today.
In the state of Wyoming, you must provide evidence of financial responsibility in order to operate an automobile.
You can prove financial responsibility by filing:
Documentation of current auto insurance
A bond
A Certificate of Deposit of money or other securities in the amount of $25,000 with the State Treasurer
Despite these alternatives, the vast majority of this state's drivers choose to prove financial responsibility by purchasing car insurance, requiring every driver to satisfy the state's liability and property damage limits of 25/50/20. 
This means you must carry at least:
$25,000 in bodily injury coverage per person
$50,000 in bodily injury coverage per accident, and
$20,000 in property damage coverage per accident
Remember that these are only the minimums required through state law and may not be enough to pay for any damages for which you are responsible following an accident.
Your vehicle coverage should also include uninsured/underinsured motorist protection in the following amounts:
$25,000 in bodily injury coverage per person, and
$50,000 in bodily injury coverage per accident (in case you are hit by an uninsured or underinsured motorist)
This coverage will be included in your auto policy unless you reject it in writing at the time you purchase your policy.
If you have trouble finding an insurer willing to insure you, The Wyoming Automobile Insurance Plan (WAIP) is a form of high-risk insurance which was developed to ensure that all motorists could obtain proper coverage for their automobile. If you have been turned down in the past, you may qualify for WAIP. For more on eligibility requirements, contact the state department of insurance (number listed above).
Since WAIP is considered high-risk insurance, you will pay higher premiums for coverage than you would in the normal market. So only consider WAIP as a last resort.
Finally, rather than paying more than you need to for car insurance in your state, take note of the following money-saving tips:
Keep it Clean—Maintaining a clean driving record will ensure the lowest rates. Why? Because the fewer marks you have on your record, the less risky you are to insure.
Cut down Your Mileage—The more you drive, the higher your risk of being in an accident. Keep those weekend drives to a minimum, and you may be rewarded with a lower premium.
Ask about Discounts—You may be eligible for discounts if you insure more than one vehicle with your insurance company, have a "good student" driver or drive a safe car. Be sure to ask your insurance agent about these discounts and more.
Shop Around—Compare several quotes at once to find where the best deal is.
It is important to understand that your access to individual health plans can depend on your health status. Insurers are free to turn you down, charge you more or limit your coverage if you have a pre-existing condition.
Additionally, the state of Wyoming does not require insurers to write standardized insurance policies. This means that price and product will vary from company to company, and you will need to read each potential policy thoroughly to determine which one is right for you.
While your access to Wyoming health insurance may depend on your health status, there are certain provisions in place to help you get and stay insured:
Health insurance in your state is guaranteed renewable, which means that your coverage can't be cancelled if you get sick. You are offered this protection as long as you pay your premiums and do not engage in fraudulent behavior. Be advised, however, that guaranteed renewability does not protect you from premium increases when it's time to renew your policy.
The guaranteed issue was implemented to ensure that small business owners would not be turned down when shopping for insurance for their employees. The guaranteed issue states that you cannot be denied coverage because of your group's health status.
If your financial circumstances are affecting your ability to obtain health coverage, there are a number of programs available to help.
If you have been denied health insurance in the normal market because of a pre-existing condition, you may be eligible for coverage through the Wyoming Health Insurance Pool (WHIP). You may also be eligible for WHIP if you can't afford the premiums of Wyoming health insurance because of your health status.
Wyoming Medicaid provides free and discounted health coverage for expectant mothers, families, the elderly and the disabled with low incomes.
The Wyoming Kid Care Program offers coverage to uninsured children under the age of 18 who meet program requirements.  Benefits of the Kid Care Program include physician visits, prescription drug, mental health, dental and vision services.
The Caring Program for Children provides basic health and dental care to kids from low-income families who do not meet requirements for Medicaid or the Wyoming Kid Care Program. The Caring Program for Children does not cover pre-existing conditions.
The Women's Breast and Cervical Cancer Early Detection Program offers screening and diagnostic services for women who qualify. Women diagnosed with breast and/or cervical cancer may also be eligible for treatment under Wyoming Medicaid.
For more information or enrollment requirements for any of the abovementioned programs, contact the following:
The Wyoming Insurance Department: (800) 438-5768
Wyoming Health Insurance Pool: (800) 442-2376
Wyoming Medicaid: (800) 251-1269
Wyoming Kid Care Program: (877) 543-1669
Caring Program for Children: (888) 556-8074
Women's Breast and Cervical Detection Program: (800) 246-1296

If you've never purchased home insurance in your state, you should know exactly what it is before you proceed:
A contract between you and your insurance company
Financial protection against major loss
An investment you make in a shared fund
Homeowners insurance is not a personal savings account you contribute to each month. It is also not a home warranty or maintenance plan. Your home's maintenance is your responsibility, so it is not covered by your home insurance plan.
Here's how it works. When you pay your premiums, your insurance company pools them together with those of other homeowners like you, creating a resource for loss recovery. When someone's home or property is damaged or lost due to disaster, your insurance provider dips into these funds to help that person replace or repair lost assets, whether it's you or someone else who's affected.
Unfortunately, many homeowners don't update their insurance policies often enough—if ever. It is important to regularly revisit your home insurance coverage to make sure it provides you and your family adequate protection. If local building costs rise or you remodel or expand your home, each of these conditions calls for a change in your home insurance coverage.
You may insure your home in one of three ways:
Replacement cost: pays you to replace your home without deduction for depreciation
Extended replacement cost: covers home replacement cost up to a certain percentage over the limit of your policy, usually 20 percent
Actual cash value: replaces your home after subtracting for depreciation due to age and use
Remember: If you do not have enough coverage to protect your losses, you are only partially insured against the cost of repairing or replacing your home—which forces you to make up the difference financially.
For your own protection, you should plan to:
Check your coverage annually to make sure you have enough insurance to repair or rebuild your home at current prices
Maintain a home inventory of your personal belongings and keep it updated so you can provide documentation of ownership if you suffer a loss
Talk to your insurer about purchasing an "endorsement," which provides extra coverage for any expensive items you own, such as jewelry, art or furs
Find out if you live in a flood zone and purchase flood insurance if necessary
Insure your home for more than its market value
Buy enough protection to cover your mortgage and the cost of rebuilding
Simply put, life insurance provides financial support to your beneficiaries when you die. The proceeds from your life insurance policy can help your loved ones pay for life's necessities, such as:
Final expenses
Estate tax
House payments
Utilities
Food and clothing
Child care
Continuing education
Retirement savings
You should carefully consider these and other areas in which your family would need financial support if you were to die. Once you have identified these areas, you can determine how much money your loved ones would need to maintain a healthy standard of living.
To determine how much coverage you need, many experts suggest purchasing as much as five to eight times your annual salary. While this gives a good figure to work from, your exact needs depend on your family's personal and financial circumstances.
You should calculate how much money your family spends on the areas of need mentioned above—and don't forget to include inflation as a factor. Then determine your assets, things like savings, pension, Social Security or real estate that your beneficiaries could liquidate to acquire money.
Make sure you subtract your assets from overall financial needs to avoid purchasing more life insurance than you need.
What kind of life insurance is available in your state? The two most common forms are term and permanent life insurance. Read on to learn the difference.
Term life insurance protects you for a specified number of years, which means that a death benefit will only be paid if you die during your policy's term. Keep in mind that you may renew your policy after it expires, but your premium may increase as you age.
Term life policies are ideal for people that need insurance but don't have a lot of money to spend on it. Term life policies are also beneficial for covering expenses that will be alleviated with time, such as a house or car loan.
Permanent life insurance protects you throughout your entire life and often carries a guaranteed death benefit. While permanent life policies are more costly than term life, many choose this form of protection because they build cash value over time. This cash value may be borrowed against if needed; however the loan—plus interest—must be paid back to avoid a decreased death benefit.
There may be additional forms of life insurance available in your state, so be sure to discuss your needs and wishes with your insurance agent to ensure that you purchase the right policy to protect your family.