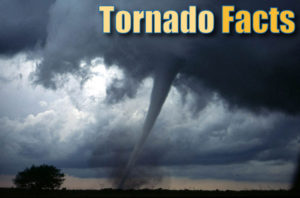 Toll
1. According to a study by A.M. Best, tornadoes are responsible for 57 percent of all catastrophic losses since 1953. The costliest tornado to date struck Georgia in 1973, causing $5.35 billion in damage. Tornadoes are approaching hurricanes in terms of costliness. According to the Insurance Information Institute's 2009 Insurance Fact Book , "insured damages of $1 billion or more from a single event [are] becoming more common."
Frequency
2. In 2008, 1,390 tornadoes touched down in the United States in the first seven months of the year, setting a new record. Kansas and Texas typically see the most action; in 2007, twisters hit Kansas 137 times and Texas 197 times. However, Florida, with its dense population, saw the highest number of tornado fatalities in 2007 with 21. Given the right circumstances, tornadoes can occur at any time of year, but they are most frequent between April and September.
Cause
3. While we know that tornadoes emerge from thunderstorms, the U.S. National Oceanic and Atmospheric Administration (NOAA) doesn't fully understand why some t-storms produce them while others don't. "The classic answer – 'warm moist Gulf air meets cold Canadian air and dry air from the Rockies' — is a gross oversimplification. Many thunderstorms form under those conditions (near warm fronts, cold fronts and drylines respectively), which never even come close to producing tornadoes." Needless to say, this gap in knowledge makes tornado prediction ??a very imprecise exercise.
Rating
4. Tornado strength is measured by the enhanced Fujita scale, from 0 to 5, with an F5 tornado packing 300-mph winds. The F-scale, as it's known, measures intensity by analyzing wind damage to manmade structures. While based on engineering guidelines, the scale is subjective. NOAA: "Nobody knows the 'true' wind speeds at ground level in most tornadoes, and the amount of wind needed to do similar-looking damage can vary greatly, even from block to block or building to building."
Coverage
5. Most standard homeowners insurance policies cover tornado-related damage. Car damage is covered under your auto insurance policy's comprehensive coverage (which is an elective coverage that kicks in after you pay your deductible amount).