Stephanie Taylor Christensen
As a patient, you assume that medical professionals involved in your care are all coordinated when it comes to your needs, especially in critical situations involving your primary care physician and a hospital emergency room. However, a study released by the Center for Studying Health System Change (HSC) indicates that care coordination is not only lacking, but is common and problematic.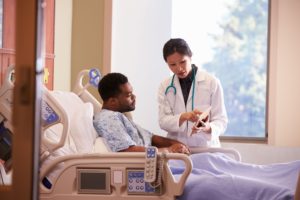 As the provisions of the health care reform law roll out, an estimated 32 million people will gain health coverage by 2019, according to the National Institute for Health Care Reform (NICR). Many will be covered by Medicaid, whose enrollees use emergency rooms more than any other group. In other words, health care reform could lead to greater use of hospitals' emergency rooms.
Care in a hospital emergency room is far more costly than care administered at a physician's office, whether a patient pays out of pocket or uses his health insurance. Therefore, it's vital that emergency room doctors can effectively communicate with their patients' primary care physicians to ensure the most efficient and cost-effective treatment possible.
Care coordination between physicians and ER staff may seem simple, but errors can arise from the simplest of missteps. Stressed patients and family members often misinform an emergency room doctor about the primary doctor's instructions, according to NICR. Primary care doctors are busy and have no financial incentives to make extra efforts to communicate directly with an ER doctor, according to HSC. Moreover, aspects of the hospital environment, like shift changes, often can cause patient details to get "lost in transit," according to NICR.
The effects of miscommunications are far-reaching, such as inappropriate treatments and duplicate treatments, according to NICR. Consequences range in severity from unnecessary medications and expensive tests to lethal errors.
In today's technology-driven world, electronic patient records may seem a natural solution. Yet only two in 10 doctors and one in 10 hospitals use even a basic electronic records system, according to U.S. Health and Human Services Secretary Kathleen Sebelius. Shared electronic patient records could streamline care, allowing real-time views of patient cases by any party involved in care and reducing the need for health care providers to connect by phone or decipher a patient's needs.
While electronic patient records could be an improvement over current communications (or lack thereof), they're not easily attainable. Many physician and emergency room groups work on separate technology systems, and changing to a unified system would require a significant investment from health care providers.