Crawford Frazer
You may know that you have a "blind spot" that prevents you from seeing vehicles approaching from behind. But you may not have heard of another dangerous blindspot — the one directly behind your car. If a child is playing behind your car, a person walks behind it in a crowded parking lot, or a dog escapes its owner and darts behind your car, the result could be a deadly "back-over" accident.
Whatever the cause, back-over accidents are a big problem: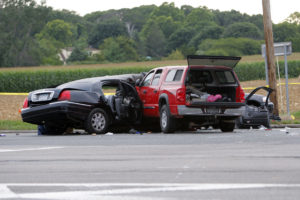 More than 200 deaths and about 14,000 injuries occur each year in back-over accidents in non-traffic situations (like parking lots and driveways), according to numbers cited by the Insurance Institute for Highway Safety.
Children and the elderly are the biggest risk groups. For crashes involving passenger vehicles, 44 percent of death are children under age 5, according to the National Highway Traffic Safety Administration (NHTSA). About 33 percent of these deaths are adults age 70 and over.
Proposed new law
These numbers have worried federal lawmakers. In December 2010, the U.S. Department of Transportation proposed a new regulation that would expand the field of view for vehicles with a gross vehicle weight rating of up to 10,000 pounds. That encompasses all cars, SUVs and passenger trucks — even the Hummer H2, which weighs in around 6,000 pounds.
The proposed rule, which was issued by NHTSA, essentially would demand that drivers be able see directly behind their vehicles when they're in reverse. The rule does not regulate how the driver will see, but NHTSA believes manufacturers will begin installing rear-mounted video cameras and in-vehicle displays in their new vehicles. Under the proposal, all new cars would have to meet the standards by 2014.
Ford Motor Co. already has introduced a rear-view camera system, "blind spot" mirrors and the radar-based "Blind Spot Information System." When combined, these technologies help drivers see behind the vehicle better when driving in reverse. They'll be available on most Ford and Lincoln models by the end of 2011.
What you can do
Don't wait for technology to help you stay safe as a driver or a pedestrian. Safety features soon may help prevent back-over crashes in parking lots and neighborhoods, but the burden is still on the driver.
NHTSA offer these tips:
Check the area behind your car before you get in the driver's seat.
Always look behind you, and back up slowly.
Actively check your mirrors while in reverse.
If there are children nearby, ask them to stand to the side where you can see them.
Teach your own children not to play around cars and to move away immediately when a driver gets in a car or a car is started.