More and more states are abandoning the PIP/No-Fault form of auto insurance in favor of a tort-based set of laws. PIP/No Fault originated in the 1930s as an alternative to the often slow and expensive process of litigating claims. The intent was to speed up the process by shifting the dispute resolution from the courts to the insurance companies. In theory, this was supposed to reduce insurance rates—and rates did go down initially.
By the mid-70s, almost 20 states had some form of no-fault insurance laws. However, over time, rates again rose until "No-Fault" states had higher rates than tort-based states. Beginning in 1980, states started repealing their no-fault laws, and now only nine states (Florida, Hawaii, Kansas, Massachusetts, Missouri, Minnesota, New York, North Dakota and Utah) have mandatory no-fault laws. Eleven states plus the District of Columbia have hybrid laws (Arkansas, Delaware, Kentucky, Maryland, New Jersey, Oregon, South Carolina, South Dakota, Texas and Virginia), which are a combination of no-fault and tort systems.
The pendulum seems to be swinging back to tort-based auto insurance. What does this mean for you as a policyholder?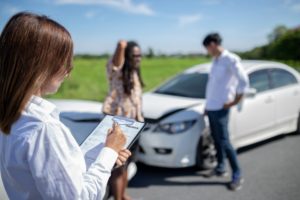 The Good News
Tort-based systems, in theory, give you more choices for medical payments and could save you substantial amounts of money. As an example, depending on the insurance company and coverages selected, those with Colorado car insurance (the most recent state to revert to a tort-based system) could see savings of 10 percent to 30 percent, according to several recent Denver Post articles.
The Choices
PIP, or Personal Injury Protection, is still available (in most cases), should you wish (or need) to pay for it. If you choose to drop this coverage, or if you are already under a tort-based system and don't have this coverage, you can still purchase it with most policies to cover medical expenses. However, coverage will be limited, with a general ceiling of $50,000. This additional coverage, if purchased, will pay expenses incurred by you and your immediate family for injuries resulting from an at-fault auto accident.
Since many drivers are uninsured or underinsured, it is essential that you understand the ramifications of this and make an informed decision about the "Uninsured/Underinsured Motorists" coverage option.
What if?
What happens if you are at fault? Your auto policy should pay the other person's claims. Companies normally negotiate this with each other. If you have insufficient coverage, you may have to go to court—thus displaying the tort aspect of the law. Either you or your health insurance company will pay medical expenses for you and your family once those expenses exceed your auto policy coverages.
What if you are injured by another driver who is at fault? Generally, the two auto insurance companies will work together to determine fault and pay benefits accordingly. This resolves the problem in most cases. If not, or if the amounts paid are insufficient, it may be necessary to resort back to the court system to recover damages.
What if the other driver is at-fault and has no (or inadequate) insurance? Your insurance company normally covers your medical expenses. This protection is provided under the uninsured/underinsured motorist coverage. If you do not have this coverage, your health insurance usually pays the bills, or you can sue the other party.
Consider the "Deductible Gap"
Generally, under a tort system, medical payments from your own policy are limited. However, in most cases you can choose "additional medical payments" and "Uninsured/Underinsured Motorists" coverage as part of your auto insurance policy.
After years of rising rates, many people may choose to forgo any additional coverages. Adding these coverages creates financial strain if you have high-deductible health insurance, or no health insurance at all. However, there is a potentially huge gap between the amount paid under a tort-based policy and your health insurance deductible. If you have no insurance, the out-of-pocket costs could be staggering. If you are not at fault in the accident, the tort-based system allows you to go to court to receive compensation for these costs, as well as for pain and suffering. But you must do so within a specified time period, and a lot of out-of-pocket expenses may be involved.
As more costs are shifted to the health insurance system, your insurance costs are likely to rise. This also means more people will be without health insurance.
So, what is next?
This is a good time to look at your health insurance to make sure you will have adequate coverage if you drop your PIP/No-Fault coverage. Don't wait until you're in an unpleasant situation to find out if you need more insurance. Be prepared!