Rachel Hartman
Do you need health insurance coverage for your child or grandchild? If so, you may have more options to choose from now than a few years ago.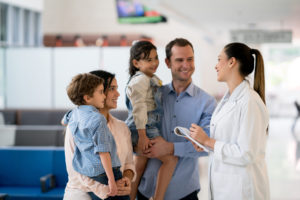 In 2010, under federal health care reform, health insurance companies weren't allowed to deny health care coverage to children under age 19. This law aimed to protect children, especially those who might otherwise not be able to get insured because of certain medical conditions, such as heart problems.
This law meant insurers faced the possibility that parents or guardians might buy coverage for children only when they got sick. Rather than raise premiums to cover the new risk, many insurers stopped offering individual health insurance policies for children.
That trend – not selling child-only coverage – may be changing. Since 2010, a total of 22 states and the District of Columbia have taken steps to encourage insurance companies to offer child-only policies, according to an October 2012 report by The Commonwealth Fund, a private foundation that promotes improvements in the health care system.
Getting coverage for children may only be a temporary problem, says Katie Keith, an assistant research professor at the Georgetown University Health Policy Institute and lead author of the report. Under federal health care reform, all adults and children will be able to get health insurance – regardless of medical conditions – in 2014.
What child-only health insurance means
A child-only health insurance policy is for a child who's 18 or younger. This type of policy offers coverage just for the child. It does not cover anyone else, such as a parent or grandparent.
Child-only policies don't account for a large share of the health insurance market. In some areas, they constitute 10 percent of individual policies sold in a state, according to the Commonwealth report.
That percentage may appear small, but getting a child-only policy can be significant for certain families. For instance, a child's parents might work at a job that offers health insurance to employees, but not the employees' dependents. In this case, parents who have health insurance through work might have to buy a separate child-only policy.
In other cases, a child might live with grandparents who are covered through Medicare. If the child isn't eligible for public programs that offer health insurance, a separate policy could be purchased for the child.
In some instances, a family may be able to afford to insure only their children, says Josh Whitaker, an insurance agent at Coastline Insurance Associates of NC Inc., an independent insurance agency in North Carolina.
How to get a child-only health insurance policy
Here are three steps to help you find the right health insurance policy for your child:
1. Know what's available in your state.
Maine, Massachusetts, New Jersey, New York, and Vermont required insurance companies to provide coverage to children before the federal health care reform law took effect. Since 2010, Arkansas, California, Colorado, Delaware, North Carolina, Oregon, Texas, Virginia, and Washington passed laws to promote the availability of child-only policies. Other states, such as Illinois and Ohio, have set new regulations regarding child-only policies.
To learn about the availability and requirements regarding child-only policies in your state, visit your state insurance department's website.
2. Be aware of open enrollment.
In some states, child-only health insurance policies are available only during certain times of the year. These periods, known as open enrollment, may be the only times a parent or guardian is able to purchase a policy for a child.
In California, the annual open enrollment period for a child is his birthday month. In Georgia, open enrollment is in January. Policies also may be sold if a child undergoes a "qualifying event," such as losing health care coverage that was available through the parent's employer but no longer is offered.
Rules regarding the availability of child-only policies differ from state to state. Contact your state's insurance department or talk to an insurance agent to see whether open enrollment applies to your area.
3. Investigate your options.
If they're not covered under a parent's policy or a child-only policy, children still may have other health insurance options. For instance, they may qualify for Medicaid or the Children's Health Insurance Program.
The Children's Health Insurance Program, also known as CHIP, provides free or low-cost health coverage for children up to age 10. It's geared toward lower-income families. In general, children in a family of four with an annual income of $44,100 or less are likely to be eligible for coverage, according to InsureKidsNow.gov.