If you're a Colorado resident looking for insurance, you're in the right place. We've compiled all the info you need to help you find home, auto, life, health or long term care insurance right here on this page.
We recommend you read it over, contact the Colorado Division of Insurance at (303) 894-7499 with any questions, and let us help you find the coverage you need today.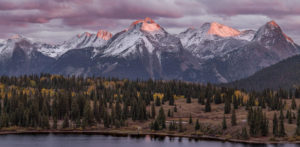 In July 2003, Colorado switched from a no-fault insurance system to a tort system.
Previously, medical expenses resulting from an accident were covered no matter who was at fault, causing premiums to be much higher. But currently, the negligent person foots the bill for injuries and damages, making it even more important than ever to protect yourself with adequate car insurance in this state.
Below are the main types of personal Colorado auto insurance available:
Bodily Injury Liability: This provides coverage for bodily injury you cause to another while driving. Minimums of 25,000 per person and $50,000 per accident are mandatory in Colorado.
Property Damage Liability: This provides coverage for damage you cause to someone's property while driving and has a minimum of $15,000 per accident in your state.
Uninsured/Underinsured Motorist Coverage: This coverage protects you and the occupants of your vehicle should you or they sustain an injury when another party with insufficient or no insurance is at fault. Though it's optional, this coverage is advised because 34 percent of Colorado drivers are uninsured. In most cases refusing uninsured/underinsured motorist coverage saves you a negligible amount compared to the protection it offers in the event of an accident.
Medical Payments: Under the tort system, medical payment coverage provides benefits for you and injured passengers in your vehicle regardless of fault. Insurers aren't required to offer this coverage, but those who do usually have limits between $5,000 and $25,000 per accident.
Collision: Regardless who is at fault, this type of insurance covers damage to your car caused by collision with another vehicle.
Comprehensive: If your car is damaged through theft, fire, vandalism, hail, falling objects or collision with an animal, comprehensive coverage pays to repair the physical damage it sustains.
The following are a few ways to become a "better risk" for insurance companies and consequently receive lower premium ratings.
Multiple Vehicles: The more the merrier! If you insure more than one car with the same Colorado insurance company, they usually offer a discount. It is less risky for insurers to underwrite an individual with whom they have a previous relationship.
Good Student: Good grades will not only get you into college, but may reduce your insurance to boot. To insurance companies, responsible students = responsible drivers.
Safety First: Insurers often offer discounts for safety devices such as air bags, anti-lock brakes and automatic seatbelts, as well as anti-theft devices that prevent theft or vandalism.
Safety First: Insurers often offer discounts for safety devices such as air bags, anti-lock brakes and automatic seatbelts, as well as anti-theft devices that prevent theft or vandalism.
A smart consumer is a protected consumer. Before signing on the dotted line, make a checklist of these items to ensure your protection:
Get Recommendations—If you have special needs or pre-existing conditions, make sure you contact a doctor or support organization for health insurance recommendations.
Ask Questions—After reading through the policy, direct any and all questions to your health insurance agent. A good agent will be more than happy to make sure you understand your policy.
Know What the Policy Covers—Be sure to review the "exclusions and limitations" section of your policy. Knowing what your policy covers will help avoid surprises during a physician or hospital visit.
Look into the Future—Ask your health insurance agent how your rates will increase as you age, and how often the insurer can increase rates.
Identify Your Coverage Area—if you are looking for a managed-care plan, check the provider's directory to make sure there are suitable doctors, hospitals and other health care facilities in your area.
Put Them to the Test—Call the insurer's customer service number to see how quickly you are able to get help.
As a consumer, you have certain rights pertaining to health insurance under state law. You should be aware of your rights and privileges to avoid any unpleasant surprises when you put your health insurance to work.
Regardless of the type of coverage you hold, you have a right to:
Insurance coverage for state-mandated benefits
Know what your health insurance plan does and does not cover
Contact your insurer to complain or appeal any decisions with which you disagree
Receive a standard form outlining health insurance benefits for comparison between companies and health plans
A written explanation of why an insurance company denies your health insurance application, or excludes a health condition from insurance coverage
Coverage of emergency room care, if you believe you are facing a life- or limb-threatening injury (even if it turns out you were not)
Prompt payment of claims
From the Rocky Mountains to the eastern plains, Colorado's landscape is as varied as the weather. Sunny days can quickly give way to snow storms, which often cause avalanches and rock slides when the sun reappears.
Colorado natives are known for their heartiness and love of the outdoors, so the somewhat unstable weather conditions are no thing for you. But inclement weather can wreak havoc upon your home. Having the right coverage can save a headache should disaster strike.
There are two types of named-peril policies—broad and basic. And there are number of different kinds of policies within these two sub groups, which offer varying degrees of coverage.
Equipping your home with the proper coverage tends to get pricey, especially if you have an older home. Luckily, there are more than a few ways to save on your home insurance.
Shop Around: You should get at least three price quotes when shopping insurance. It is also wise to go through a third party company that will provide unbiased information and answer your questions honestly.
Raise Your Deductible: A deductible is the amount you pay before the insurance company begins to pay your claim. Your premium payments will be lower if you raise your deductible to at least $500.
Disaster-Proof Your Pad: Something as simple as adding storm windows and shatterproof glass may save you money on your premiums. To reduce the risk of fire or water damage, think about renovating old heating, plumbing and electrical systems.
Life insurance provides your loved ones financial security when you can no longer provide it yourself. It becomes a nest egg when you die, enabling them to make wise decisions and prepare for a future without you.
The biggest issue your family has to face in the event of your death is lost income. Life insurance gets them past the income gap by providing for living expenses, funeral expenses and other financial obligations, such as estate taxes, mortgages, education and relocation.
You should buy life insurance if:
You're married and you're the main breadwinner in your household
You have children, aging parents or disabled relatives who depend on your income
You have a large estate and expect to owe taxes
You own a business
Your retirement, savings or other assets are not an adequate means of support for your loved ones
How much insurance you need depends entirely on your family's situation.
Many experts recommend purchasing at least five times your annual take-home pay in life insurance. But this may or may not be accurate because no two families' needs are exactly alike.
If you can accurately identify your financial responsibilities and resources, it will be easier to make a wise decision about how much insurance to buy. However, make sure you buy at least enough insurance to replace your lost income for a period following your death. This will guarantee your family an opportunity to get back on its feet financially during a challenging time of transition.
Long Term Care Insurance
Due to old age, mental or physical illness or even injury, you may find yourself in need of assistance with life's every day tasks later in life, such as getting out of bed, bathing, dressing or eating.
These actions are commonly referred to as "activities for daily living", and if you are unable to do two or more of these activities, you are said to need long term care. And, according to the Life and Health Insurance Foundation for Education (LIFE), having a nurse visit your house just three days a week can cost more than $20,000 a year. Full-time nursing home care can cost over $60,000 a year—not an easy tab for most Coloradoans to pick up.
Unfortunately, many people think their insurance will cover long term care. The truth is that regular insurance won't cover the costs if you need nursing home care or assisted living. In fact, many families end up having to pay for assisted care of their loved ones, resulting in stress and financial hardship to the family.
A policy like this can evade this financial burden by ensuring funds for your needs—giving you and your loved ones some well-deserved peace of mind.
While there are many types of policies, Colorado insurers who offer long term care insurance must provide at least two types of policies, called basic and standard.
The maximum benefit for the basic policy is $115,000, while the maximum benefit for the standard policy is $192,000; you may also buy an inflation rider that will appropriately adjust the benefit amount for inflation.
The basic and standard plans, along with any other policy offered by your insurer, cover three basic types of care: skilled, intermediate and custodial.
Skilled—helps you recover from illness or injury by providing skilled care and/or professional therapists. Skilled care is provided daily.
Intermediate—offers the same type of care as skilled care, although care is not provided daily. For instance, intermediate care would be provided if you broke your leg and needed physical therapy three to five times a week.
Custodial—includes assistance with "activities for daily living", such as bathing, dressing and eating. Custodial care offers daily to 24-hour care; unlike skilled and intermediate care, custodial care is designed to improve the quality of life—not to help you get better.
These levels of care illustrate the wide range of help that comes with insurance, all of which may be beneficial during some point in your life.
As always, an informed consumer is a smart consumer—especially when shopping for insurance.
So be sure to consider these tips when shopping for LTC insurance:
Compare numbers. While you will undoubtedly want to compare prices, you should also look at the time you must wait for coverage to start, the amount per day you will be allotted and the length of time you will receive benefits.
Read carefully. After reading your policy, be sure to direct any and all questions to your agent.
Find out how the company reimburses you. Your insurer may pay the health care provider directly, reimburse you for certain services or pay a specified rate in cash to pay for any needs you may have. You will want to find out how the company takes care of expenses and make sure their method of reimbursement works for you.
Consider inflation. Purchasing an inflation rider will protect your benefits from depleting due to inflation.
Follow these tips diligently to understand your insurance policy and get the most from it. Not doing so could be catastrophic.