Crawford Frazer
Community health centers serve about 20 million people a year, according to the National Association of Community Health Centers (NACHC). If you have health insurance, you may never have been to one. But they have been aiding low-income and uninsured people for decades. And because of the billions of dollars in increased federal funding that will come from the health care overhaul, the number of patients who use these centers is expected to double by 2015, according to Kaiser Health News.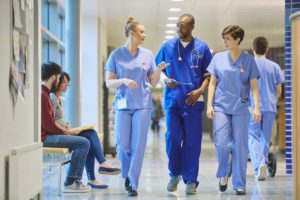 Understanding community health centers
Community health centers are local clinics dedicated to providing primary health care for poor, uninsured or underserved patients, including migrant workers, immigrants, the homeless and public housing residents, according to the federal Health Resources and Services Administration (HRSA). Generally, they are certified by Medicare and Medicaid. They usually are funded by grants or public funding.
Who can use community health centers?
Everyone, even those who could afford to go elsewhere or who have health insurance, can use the centers. Nobody is turned away, according to Kaiser. But there is a sliding scale of payment for people with income up to 200 percent of the federal poverty level. Those whose incomes are above 200 percent of the poverty level pay the full cost of care. The centers also accept Medicare and Medicaid as well as some private insurance, according to Kaiser.
The future of community health centers
Community health centers depend largely on public funds, according to NACHC, which can leave them vulnerable to budget cuts — and the potential repeal of the health care reform law.
Community health centers stand to gain a lot from the health care reform law. The law includes incentives and increased funding for facilities that adopt the "patient-centered medical home" approach: increased patient monitoring, preventive care, and care coordination between primary doctors and specialists. According to Kaiser, this is a model that community health centers have used for years.
Yet community health centers are not without problems and challenges. If a center is not closely affiliated with a hospital, its uninsured patients often find it difficult to get specialty care, like X-rays and diagnostic tests, not offered at the center, according to a 2010 survey by the Commonwealth Fund.
Moreover, because community health centers care for everyone who comes through their doors, getting an appointment can be difficult. According to Kaiser, some patients must wait months for appointments to get non-urgent care.