Linda Melone
As a sign of an improving economy, millions of Americans plan to put money into home improvement projects in 2012. In fact, according to a Piper Jaffray survey, 40 percent of homeowners plan to spend more on their homes in 2012 than they did in 2011.
No matter what the home improvement project is — swapping out your old countertops for sleek, modern granite or adding a fourth bedroom — you need to check in with your home insurer.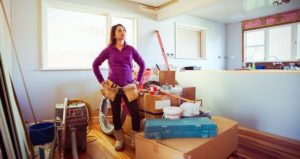 Before you begin
Take steps to protect yourself before any work begins, says David Miller, CEO of Brightway Insurance in Florida. "Make sure your contractors are all licensed and … follow local building codes," he says.
Keep in mind that building codes may have changed since your home was built. Many home insurance policies include law and ordinance coverage, which provides extra money to make fixes to meet current code standards, Miller says.
For example, if your plumbing or air conditioning no longer met building codes, "your insurance company may request documentation from the contractors … to make sure you have enough coverage to protect the entire house, including the new… improvements," Miller says.
Upgrade your coverage
Many homeowner's insurance policies now are written with a "guaranteed replacement cost" component that ensures full payment to restore or repair damage, says Robert Ryan Jr., president of Ryan and Ryan Insurance in New York. "If you do no report the home improvement to your insurer," Ryan says, "you won't get the guaranteed replacement cost on your house."
Even if you don't have a guaranteed replacement cost component on your policy, you still want to report any additions to your insurer to be sure you're covered, Ryan says.
Most insurance companies hire valuation services to assess the guaranteed replacement cost of a home, Miller says.
Detached and attached structures
If your home upgrade is attached to the original structure, it increases coverage needs under the Coverage A portion of your homeowner's policy, Miller says. Coverage A includes protection for damage to your homje, such as fireplaces and carpeting. The Coverage B section of your homeowner's policy encompasses all other structures – such as detached garages and gazebos, Miller says.
In most states, 10 percent of your home coverage goes toward detached structures, Miller says. For example, if you have $100,000 worth of coverage on your house, you have $10,000 coverage for the rest of the buildings on your property. However, that coverage does not include the contents within these structures, he says. The personal property coverage within your homeowner's policy covers those contents as long as they're on the same property.
The coverage amount for detached structures usually can be increased for a slight additional premium if you have more than one building, Ryan says.
The cost for the extra coverage depends on several factors, including where you live and whether you have an alarm system, Ryan says. For example, to go from $50,000 worth of coverage to $100,000 may cost $80 for the added structures.
"This should be evaluated at the time of the purchase of the policy," Ryan says, "or when an additional structure is built on the premises."
Plants not included
If your home upgrades include landscaping and stonework, not all of that will be covered by your homeowner's insurance. Outdoor beautification usually is limited to 5 percent of the amount of coverage on your house, Ryan says.
Only items that can stand the test of time will be taken into account. "Fountains, paths and walkways are all covered, but the plants won't be covered because they eventually die," Miller says.