If you're like most, the apartment or house you rent is filled with your possessions, from your priceless family photos to your favorite recliner.
Although your landlord probably has an insurance policy, it only protects the building. With renters insurance, you protect those things that make a house a home: your belongings.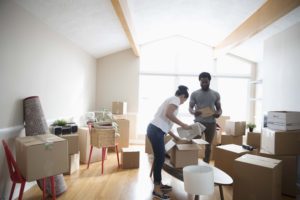 Renters insurance covers the contents of your home in the event of the perils listed below and protects you against liability claims should someone get injured in your home.
Fire or lightening
Windstorm or hail
Explosion
Riot or civil disturbance
Aircraft
Vehicles
Smoke
Vandalism or malicious mischief
Theft
Broken glass
Falling objects
Weight of ice, snow, or sleet
Accidental discharge or overflow of water
Sudden and accidental tearing apart
Freezing
Artificially generated electrical charge
Standard Coverage
Actual Cash Value v. Replacement Cost
When purchasing home insurance for your rental, it's important to be aware of two different types of coverage: actual cash value and replacement cost.
Actual Cash Value: If you have this type of coverage, you will be reimbursed for the amount your property was worth when damaged or stolen, minus your deductible. If the couch you bought for $900 five years ago is damaged in a fire, your insurance company will pay only what it is worth now, significantly less than what you paid originally, even though it'll cost about the same or more to purchase another one.
Replacement Cost: With this type of coverage, the insurance company will pay what it will cost to replace the belongings that were lost, minus your deductible. Usually, you have to pay out of pocket to replace the item and send a receipt to the insurance company before you are reimbursed. Replacement cost coverage will cost you more in premiums, but may be worth it should an unexpected loss occur.
Additional Coverage
As with any kind of home insurance, there are additional benefits you can add on to your particular policy or purchase as a separate policy. For example, floods and earthquakes aren't among the perils covered. If you live in an area prone to those natural disasters, you may choose to add this coverage.
Don't Be Overwhelmed
Start Right Away. It's much easier to start an inventory when you are first setting up your home. You usually have less and most of it is new, so you may still have receipts. Remember, it's better to have an incomplete inventory than none at all.
Protect Your Valuables. Some items you own, like jewelry or art work, appreciate in value. Make sure you have sufficient insurance to cover them if they are ruined, lost or stolen.
A Picture (or Movie) is Worth a Thousand Words. It takes less time to walk through your home and photograph or videotape. Write information about each item on the back of photos or describe them while you videotape.
Take Advantage of Technology. Personal finance software often has a program that helps you conduct a room-by-room inventory.