John Egan
Anyone ticketed for texting while driving should have his driver's license yanked, a nonprofit advocacy group says.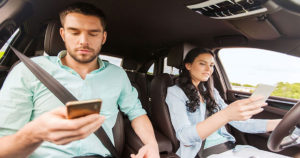 "Impairment is impairment," Rob Reynolds, executive director of FocusDriven, says in a news release. "A drunk driver knowingly engages in reckless driving due to the alcohol impairment. Cellphones impair a driver's ability to safely operate a vehicle, and the penalties should be the same for these violations – including automatic license revocation and even jail."
FocusDriven is an advocacy group for victims of car crashes involving drivers using cellphones. Using a cellphone behind the wheel puts a driver at greater risk of getting into a crash; an accident, in turn, can lead to higher auto insurance premiums.
Across the U.S., penalties for texting while driving are limited to fines, according to FocusDriven.
"Given the dangers these drivers expose themselves and others to when they text while driving, the penalty for any and all violators, regardless of age, should be automatic license revocation, even on the first offense," the group says.
According to the Governors Highway Safety Association, 39 states prohibit texting by all drivers. In 2010, at least 3,092 people were killed in distraction-related crashes across the country, the U.S. Department of Transportation says.
In June, U.S. Transportation Secretary Ray LaHood called distracted driving an "epidemic" and endorsed a national ban on using cellphones behind the wheel.
"While we've made progress in the past three years by raising awareness about this risky behavior, the simple fact is people are continuing to be killed and injured – and we can put an end to it," LaHood said. "Personal responsibility for putting down that cellphone is a good first step – but we need everyone to do their part, whether it's helping pass strong laws, educating our youngest and most vulnerable drivers, or starting their own campaign to end distracted driving."