Stephanie Taylor Christensen
Just because you carry auto insurance required by your state's laws doesn't mean everyone else on the road does.
About one in six drivers is uninsured, according to the Insurance Research Council (IRC). Given the economic downturn, the Insurance Research Council expects those numbers to rise. The problem is especially prevalent in New Mexico, Mississippi, Alabama, Oklahoma and Florida, which have the highest rates of uninsured drivers, according to a 2009 study by the Insurance Research Council.
If you get into an accident with an uninsured driver, you have nothing to rely on to pay for lost wages, injury and repairs, other than your own auto insurance policy. And if you have only your state's required minimum liability coverage, you could end up paying for accident-related expenses out-of-pocket.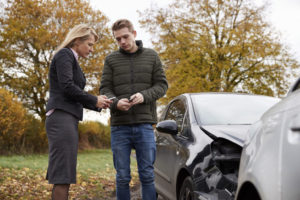 It might not seem fair to have to buy special auto insurance protection to cover damage caused by those who neglect to buy their own. But protecting yourself and your finances is the primary reason for carrying uninsured motorist (UM) or underinsured motorist (UIM) coverage.
Uninsured motorist coverage is optional in most states, according to the Insurance Information Institute, but 20 states and the District of Columbia require it. Should you have an encounter with an uninsured driver or are involved in a hit-and-run, your uninsured motorist coverage would kick in to pay for damages.
Underinsured motorist coverage, meanwhile, won't cover you in a hit-and-run (and therefore can't identify the at-fault driver). But it will cover you if the at-fault driver doesn't have enough insurance to cover damages, according to the Insurance Information Institute. Additionally, it provides coverage if you're struck as a pedestrian.
Uninsured/underinsured motorist policies often have bodily injury and property components, which vary by state.
The bodily injury component covers injuries suffered by you, your passengers and family members driving your car, according to Allstate. The property component covers damage to your vehicle. If you have collision coverage, uninsured/underinsured motorist coverage might overlap with it. However, do not assume that you can replace your collision coverage with uninsured/underinsured motorist coverage. Collision coverage applies whether or not you're at fault, while uninsured/underinsured motorist coverage takes effect only if you are not at fault.
If you live in a state that requires uninsured/underinsured motorist coverage, it is automatically included in your standard auto policy unless you reject it. If your state doesn't require it, you must opt into the coverage.
If you are in an accident with an uninsured or hit-and-run driver, document as much information about the accident as possible and report it to your auto insurance company immediately.