Mary Lou Jay
Have rising gas prices encouraged you to go shopping for a smaller vehicle? Although you may cut your costs at the pump, some of those savings may be offset by increased safety risks.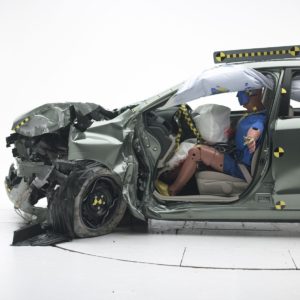 There's no direct relationship between car size and auto insurance premiums. Insurers take a slew of factors into account, from your driving record to the car's make, model, body type and age. They also factor in the car's sticker price, the cost to repair it and its overall safety record. Safety is where larger vehicles usually have an advantage over smaller, more energy-efficient cars.
The Insurance Institute for Highway Safety (IIHS) Highway Loss Data Institute reports that the likelihood of a person being killed in a crash varies with vehicle size. That's because smaller, lighter vehicles have less structure to protect occupants. IIHS says that while pickups and SUVs actually are more likely to be involved in crashes, the occupants of those vehicles are less likely to be killed than the occupants of lighter vehicles.
IIHS analyzed data on fatal crashes from the U.S. Department of Transportation's Fatality Analysis Reporting System (FARS) and the Polk Co.'s National Vehicle Population Profile. In 2008, there were a total of 25,428 passenger vehicle occupants killed in crashes. Sixty-one percent were car drivers, 22 percent were pickup truck drivers and 16 percent were SUV drivers. IIHS found that the rates of driver deaths for every 1 million registered vehicles were lower for larger and heavier vehicles.
Small subcompact cars also fared badly in IIHS' offset-frontal crash tests, in which three subcompact cars were pitted against larger cars from the same manufacturers. All of the subcompacts earned poor ratings.
If your heart is set on a smaller car, however, there are some things that you can do to ensure you and your passengers will be as safe as possible — and that your insurance rates will be as low as possible, too.
IIHS offers the "Top Safety Picks for 2011," which lists the vehicles of all sizes that are best at protecting their occupants in a crash. More than 20 models in the small-car category made the grade — there's even one mini car on the list.
Once you've identified a few top safety picks, you also can factor in the possible insurance costs. Insurance companies like to see safety features like antilock brakes, air bags (front and side) and electronic stability control, all of which can help reduce the risk of injury in vehicles of every size. In fact, many companies will offer insurance discounts for safety features.