With natural disasters like hurricanes, tornadoes and earthquakes more common than ever these days, you'd think the Big Bad Wolf was having a heyday trying to blow our homes down!
As wind, hail and water continue to pound our abodes, leaving thousands displaced or homeless and insurance companies struggling to cover the damage, now seems a good time to assess the factors that affect our homeowners insurance rates—and our livelihood.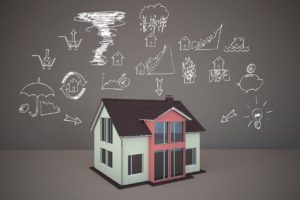 Location and Home Insurance Rates
According to the National Association of Insurance Commissioners (NAIC), it cost an average of $729 to insure a home in the U.S. in 2004, the most recent year for which data is available.
But rates vary greatly from state to state, depending on factors such as the likelihood of claims and even the value of real estate prior to disaster.
Geographic location, risk and variables like building codes and materials used in construction also come into play when it comes to home insurance rates. And for residents living in states where the amount of risk is significantly higher, finding insurance coverage that protects the investment made in their homes can sometimes be challenging.
Talk to policyholders living on the southern plains or in one of the U.S.'s coastal regions, and they'll attest to the effect natural disaster can have on finances and viability. Some may even have trouble insuring their homes, especially in states where disaster has become more commonplace.
Top 10 Most Expensive States to Insure Homes—and Why
Forbes.com recently released its list of the top 10 most expensive states to insure a home. We've presented those results here to help you understand insurance rates, wherever you live.
Keep this list close by, and contact a licensed insurance agent or your state's department of insurance if you have any questions about insurance in your home state or the effect of disaster on insurance claims risk.
1. Texas. Average Annual Premium: $1,362. Reason: Hurricanes, Tornadoes, Hail, Windstorms, Earthquakes
2. Louisiana. Average Annual Premium: $1,074. Reason: Hurricanes, Poorly Built Homes, Wind, Rain
3. Oklahoma. Average Annual Premium: $991. Reason: Wind, Tornadoes
4. Florida. Average Annual Premium: $929. Reason: Insurers Pulling out Due to High Risk, Rising Sea Levels, Hurricanes
5. Mississippi. Average Annual Premium: $907. Reason: Flooding, Falling Trees, Wind Damage, Poorly Built Homes
6. District of Columbia. Average Annual Premium: $894. Reason: High Property Values, High Risk for Terrorism
7. California. Average Annual Premium: $835. Reason: Ocean Storms, Brush Fires, Mudslides
8. Kansas. Average Annual Premium: $833. Reason: Tornadoes
9. Colorado. Average Annual Premium: $811. Reason: Rapid Construction, Improving Housing Market, Winter Ice Storms, Summer Hail Storms
10. Alaska. Average Annual Premium: $810. Reason: Expansive Nature of State, Hard to Get Supplies in
Preparing for Disaster
Disaster can strike at any time, regardless where you live. But for residents of the states above, finding a homeowners plan that keeps home and family safe may seem a bit more difficult.
Before you experience loss and need to file an insurance claim, shop your rates online at InsureMe.com. You'll be prepared for the future, and find the coverage you need quickly and easily—no matter how hard the Big Bad Wolf tries to get your goat!