Gina Roberts-Grey
Many homeowners assume all sorts of troubles are covered by their insurance policies. They think it's as simple as filing a claim and getting a check. But some of those troubles — known in insurance circles as "perils" — fall outside the scope of a home insurance policy.
Here's a look at seven common occurrences that your homeowner's insurance probably won't cover fully — or at all.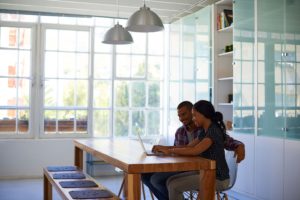 1. Spoiled food
If your home loses power or your fridge goes on the fritz, don't look to your home insurance policy to cover your spoiled milk or ruined steaks. Your policy won't cover the loss unless you purchased extra "refrigerated property" coverage, says Billy Van Jura, owner of Birchyard LLC, an insurance brokerage in Poughkeepsie, N.Y. Depending on your insurer, the "refrigerated property" coverage could add about $20 a year to your premium.
2. Puppy antics
If your new puppy uses your leather sofa or carpet as a chew toy or potty, your home insurance won't pick up the tab for the damage.
"Unfortunately, there are no policies that cover damage caused by pets," says Jennifer Foley, an account manager at Assurance, an insurance brokerage in Chicago.
Foley says some policies do include limited coverage for loss of glass, such as a window. "So, if your pet ran through a door and broke the glass, there may be some coverage available," she says.
3. Code upgrades
Frank Keaney, personal lines manager at Amity Insurance, an insurance brokerage in Massachusetts, says most home insurance policies provide up to 10 percent of the cost toward bringing your home up to municipal codes following something like a fire. But that may not be nearly enough to cover your loss, Keaney says. For instance, the cost to bring your home up to code could cost $2,000. Under a standard home insurance policy, $200 of that bill might be paid.
"Your homeowner's insurance policy will pay to put you in the same position you were in prior to the loss. So if your home had a crawl space but new building codes require you to build a full basement, the extra expense of building a full basement would only be covered up to the 10 percent limit provided by the policy," Keaney says.
Therefore, you'd be left holding the bag for the rest of the cost of a code upgrade. Furthermore, Keaney says, your insurer will cover the cost of repairing or replacing only the damaged part of your home. So if your municipality forces you to tear down more of your home — or even all of it — you'd be stuck with the extra expense, including demolition and debris removal.
4. Squirrels in the attic
Foley says that if a squirrel makes its way into your attic and wreaks havoc, the damage won't be covered by a standard home insurance policy. Why? A squirrel is classified as a rodent, and damage by rodents is excluded under a standard policy. However, if the intruder is a raccoon, a bird or any other non-rodent creature, Foley says, the damage is covered.
5. Power surge
If your computer is damaged during a power surge, the loss might not be covered, Van Jura says. Coverage depends on the cause of the power surge.
"If the surge is caused by a covered peril listed on the homeowner's policy like lightning damage, then the damage to the computer would most likely be covered," Van Jura says.
But if a power surge is triggered by a random problem with a power line, it typically won't be covered. There are exceptions, though. In 2003, a power surge following a massive power blackout in the state of New York damaged all sorts of electronics. In that case, many home insurers covered losses because the outage was so massive, according to Van Jura.
6. Sewer or water backups
If a sewer or water backup floods your basement, a standard homeowner's insurance policy won't pay to fix the damage. However, coverage for sewer or water backups is available for a small price — as little as $20 a year tacked on to your regular premium, according to Foley. Homeowners often skip coverage for sewer and water backups to save money, Foley says.
7. Water and wind
Gradual damage caused by plumbing leaks or wind typically isn't covered, says Paul Berger, an insurance adjuster at Claim Solvers in Florida. So you're going to foot the bill for the shingles that blew off one or two at a time over the course of a windy winter or for the leaky washing machine that soaked the laundry room. Berger says "gradual" damage that isn't "sudden and incidental" is not covered.