Mary Lou Jay
Where do you go on a Saturday afternoon when the cough you've had all week has suddenly become worse? When you've cut yourself and may need stitches? When you've developed a bad rash that's spreading over your arms and legs?
Although your first impulse might be to head to your local hospital's emergency room, there may be a better choice — an urgent care center.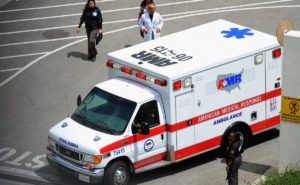 Urgent care centers provide health care services for patients suffering from acute illnesses and injuries but who do not require the full services of a hospital ER. Urgent care clinics treat walk-in patients, usually on an extended schedule that includes early morning, evening and weekend hours. The health care providers at urgent care centers typically are physicians, nurse practitioners and physicians' assistants. About 65 percent of urgent care clinics have a physician on site at all times, according to the Urgent Care Association of America.
The Urgent Care Association of America reports there are about 8,700 urgent care centers in the United States, and more than 600 of them opened between 2008 and 2010. One reason for this growth is the increasing number of patients seeking emergency room services, which has led to longer wait times in hospital ERs. In urgent care centers, on the other hand, the Urgent Care Association of America estimates that 57 percent of patients wait less than 15 minutes to be seen, and about 80 percent of all patients have completed their visits within an hour.
One benefit to urgent care centers is their lower cost. According to Aetna, the average bill for treating an ear infection at an ER is $550 to $750, while the average bill for that same problem is only $59 at an urgent care clinic. Many health insurance companies also have lower co-pays for visits to urgent care clinics. UnitedHealthcare, for example, requires patients who go to an urgent care center to pay between $50 and $75 for their treatments, but boosts that charge to $100 to $250 for patients who use the ER.
But urgent care centers are not intended to entirely replace the ER. The National Association for Ambulatory Care says patients need to go directly to an ER if they are experiencing symptoms like these:
Chest pain.
Difficulty breathing.
Severe bleeding or head trauma.
Loss of consciousness.
Sudden loss of vision or blurred vision.
An urgent care center, on the other hand, can handle problems like:
Minor burns or injuries.
Sprains and strains.
Coughs, colds and sore throats.
Non-life-threatening allergic reactions or animal bites.
Broken bones.
If you're not sure whether to go to an urgent care center or the hospital ER, call ahead and describe your symptoms to the staff of the urgent care center. They also will be able to tell you whether there's a physician present and whether the center has X-ray capabilities to handle injuries like a suspected broken bone.