If you're a Georgia resident looking for insurance, you're in the right place. We've compiled all the info you need to help you find home, auto, life, health or long term care insurance right here on this page.
We recommend you read it over, contact the Georgia Insurance and Safety Fire Commissioner's Office at 800-656-2298 with any questions, and let us help you find the coverage you need today.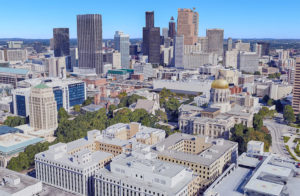 Liability insurance covers damage you cause others through your own negligence in accidents at which you are at fault. Georgia state law requires only bodily injury and property damage liability insurance. Minimums include bodily injury protection of $25,000 per person and $50,000 per accident, and property damage coverage of $25,000.
Physical damage auto insurance, which pays for any damage or loss to your own car, is also available in the form of comprehensive or collision insurance. Although these are not required by state law, your lender or leasing company will usually require you to add these coverages to your car insurance policy.
Car insurance companies use various factors to determine your auto insurance rates, including:
Age
Type of vehicle you drive
Driving record
Claims history
Location
Each of these details plays a vital role in the determination of your auto insurance premium. A driver who has multiple tickets, lives in a high-crime area or drives an expensive automobile will likely pay higher rates than one who has no tickets or accidents, or who drives a less expensive vehicle or one that costs less to repair.
Residents of your state are insured either through a group plan sponsored by their employers or through an individual medical insurance policy. Georgians who are self-employed, between jobs or not covered by an employer may find it difficult to find affordable health coverage.
Selecting the right insurer can be critical to your well being and to your pocketbook. Consider asking the following questions when searching for health insurance coverage:
How long has the company been in business?
How can I get in touch with the agent or company?
Is the company/agent licensed?
How do independent rating agencies such as A.M. Best rate the company?
What is the company's complaint ratio?
Insurance companies consider several factors to determine your insurability. Some of these include your age, health, habits and lifestyle, and occupation.
The older you are when you purchase health insurance, the higher your premiums will usually be…and the harder it will be to find an insurance company willing to insure you. This is because your risk of health-related issues increases as you get older.
Habits such as drinking or smoking can also result in difficulty finding quality health insurance, as they are associated with various health problems costing insurance companies millions of dollars in claims every year. Working a job which is dangerous or puts your health at risk may also contribute negatively to your insurability.
Homeowners insurance protects you from financial losses due to damage, theft and other hazards. It covers the contents of your home, additional living expenses incurred when your home becomes uninhabitable, and any alleged claim of negligence causing injury to someone else.

If you own your home, you need specific home insurance that fits your specific situation. Consider these options:
HO-3 – Insures against risk of loss for buildings, and loss of contents for broad named perils, such as theft
HO-4 – Provides content loss coverage on rentals for broad named perils
HO-6 – A condominium policy providing insurance against broad named perils on an owner-occupied condominium unit
All Georgia residents should create a household inventory for their own protection. This is simply a list of all possessions, their worth and any further identifying details.
To make a household inventory, first make a list of each room in your house. Then walk through each room, listing its contents and writing down any supporting information. Include complete descriptions, estimated values, sales prices, serial numbers, brand names, model numbers; any specific, identifying details. Take pictures if you can, and record your inventory on a computer disk, storing all supporting documents together in a safe place outside your home.
Keep your inventory in a safe place, provide protection for your family's valued treasures and heirlooms, and eliminate claims problems in the event of a disaster. In the event of a loss, simply send a copy of this information to your insurer or agent for loss verification.
Most insurance policies are designed to protect you and your property from damage, injury or loss. Life insurance, in contrast, is aimed at protecting your dependents from financial and monetary loss, and at providing for their welfare in the event of your death.
Term life and cash value (or permanent) life are two of the most basic types of life insurance available. Term life is the simplest form, covering you for a term of one or more years. Term life policies are normally written for individuals who need large amounts of coverage for specific time periods. This type of policy can usually be renewed at the end of its term, even if your health has changed.
Initial premiums for term life insurance are usually much less than for permanent life insurance, but they may increase each year (or remain level) for a specified period. Term life insurance provides good coverage for young Georgian families raising children or paying off mortgages. These policies are, however, short term solutions and do not build equity; but monthly costs are low, so individuals with limited resources are able to purchase life insurance protection.
Most term life policies do not accrue cash value; however, they offer the largest insurance protection for your dollar.
Cash value or permanent insurance provides Georgians with long-term financial protection. This includes both a death benefit and, in some cases, cash savings. Permanent insurance equity builds over time, but premiums are higher than those of term insurance. Rates usually remain the same once the policy is purchased. Those who are attempting to meet long-range financial goals do well utilizing this type of insurance.